Honda City Petrol Engine Gets BS6 Approval - Power Figures Intact
A leaked iCAT document confirms that Honda City's 1.5-litre petrol engine is approved for compliance with the BS6 emission norms. It seems that only the manual transmission variants have cleared the BS6 hurdle. The CVT automatic variants are yet to get their compliance approvals.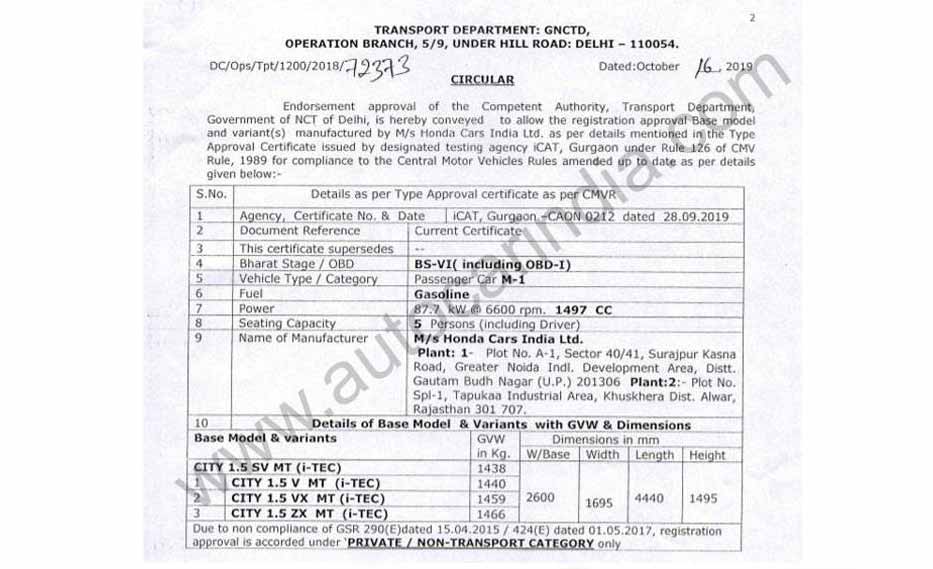 The 1.5-litre petrol engine with the 5-speed manual transmission will continue to make 119PS of power (6600RPM) and 145Nm of torque (4400RPM). The gross weight of the vehicle for the V and ZX variants is slightly higher. The V variant's GVW is 4kg higher and that of top-spec ZX variant is 3kg higher. While the SV and VX variants' weight remains intact. This means that the BS6 Honda City may see some features juggled here and there to better differentiate variants. The V variant could borrow some tech from the VX while the ZX could get a new feature as well.
Gross Vehicle Weight (GVW) = the max weight a vehicle is allowed/rated to carry safely
It's unclear at the moment if Honda will carry forward the City's 1.5-litre diesel engine into the BS6 era or not. We're seeing buyers considering petrol cars for their refinement and lower cost of acquisition. Diesel vehicles are expensive to buy and recovering that cost requires you to drive them to bits. The diesel fuel is also not that much cheaper compared to petrol. Making the City's diesel engine BS6 ready will further add to that upfront cost. The demand for SUVs and crossovers is also on the rise as buyers want a more imposing vehicle with high ground clearance.
The Honda City diesel doesn't meet either of these criteria. But Honda has invested plenty into the development of this 1.5-litre diesel engine which debuted in 2013 with the Amaze. 7 years is too short of a lifespan for an engine. Manufacturers tend to keep an engine around decades tweaking and perfecting it as they go along.
We do not see value in buying the Honda City diesel despite its significantly higher fuel efficiency. The diesel variants promise 25.6kmpl compared to the petrol's 17.4kmpl. The diesel variants cost about Rs. 1.3 lakh more than equivalent petrol variants.
Let's assume you will get the advertised fuel efficiency in the real world. Let's assume the current prices prevailing in New Delhi for the sake of this calculation - Rs. 73.28 for petrol and Rs. 66.17 for diesel. It will still take you 80,000km to recover the additional cost. Given that a typical car owner upgrades every 5-6 years, you are more likely to have a new car before you touch 80,000km on the odometer. Not to mention, the slightly higher maintenance costs and the gruff note of a diesel engine that you'll have to deal with during the ownership.
Also Read: 2020 Honda City To Get Turbo Petrol and Diesel Engine With CVT Automatic