December 2022 - Honda City Petrol, Hybrid Petrol Variants Explained - Which One To Buy?
In this variant explained article, you'll find out which variant of the Honda City petrol or hybrid you should buy based on the ex-showroom prices, variant-wise features and value for money. Here we compare and objectively analyse the 2022 City's petrol variants and the features to figure out which variant is worth buying for a good value for money and ownership experience. Then we will compare the engine specs, dimensions and mileage of the Honda City with its competitors and other petrol-powered C-segment sedans like Maruti Suzuki Ciaz, Skoda Slavia, Volkswagen Virtus and Hyundai Verna.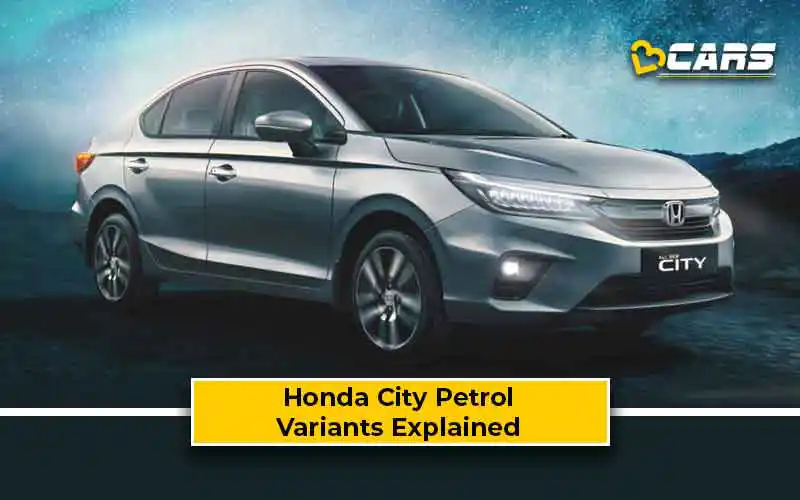 This update of the Honda City petrol variants explained article includes the latest December 2022 prices of the 5th gen Honda City after the recent price increase. This article also includes the engine and dimension comparison with City's rivals, including the Skoda Slavia and Volkswagen Virtus.
Also Read: Hyundai Creta Petrol Variants Explained - Which One To Buy?
Maruti Suzuki Nexa Ciaz Petrol Variants Explained - Which One To Buy?
Maruti Nexa Grand Vitara Petrol Variants Explained - Which One To Book?
What Are The Pros And Cons Of Honda City Petrol?
The pros or advantages of Honda City petrol are:
D-segment length for a C-segment car. It continues to be the longest car in its segment even after the introduction of the Skoda Slavia, although the gap is negligible.
4 engine-transmission combinations to choose from: petrol-manual, petrol-automatic, hybrid petrol-automatic and diesel-manual.
Improved torque delivery with the normal petrol engine; peak torque now arrives 300rpm sooner than before. It also gets a 6-speed manual transmission now, while the old, 4th-gen City had a 5-speed manual.
Well-priced and very well-equipped V variant should suffice for most sedan buyers as it has the features to compete with the top variants of some of its rivals. It is also the most value-for-money variant of the Honda City petrol.
Good number of standard safety features (ESP, TC, HSA, 4 airbags, ABS).
The highly-fuel efficient hybrid promises 26.5kmpl along with class leading torque output from near-zero RPMs.
The City is the only car in its segment with ADAS features.
The Honda City petrol has the following shortcomings or problems:
High entry price makes it inaccessible for many sedan buyers because even the base variant costs more than Rs. 11.50 lakh with the petrol-manual powertrain.
Worst torque to weight ratio of about 125Nm/tonne; on the lower end among its peers
185-section tyres are too narrow for a car of this size and price. Even the Baleno has wider tyres.
Automatic variants cost Rs. 1.30 lakh to Rs. 1.40 lakh more than manual and seem a little expensive.
No turbo petrol engine option.
The hybrid seems overpriced and offers poor value for money even after factoring in the improved drivability and performance, ADAS features and higher mileage figure.
What Is The Price Of Honda City Petrol Variants?
The 5th gen Honda City is available in 4 variants - V, VX, ZX and ZX Sensing (hybrid). The lower 3 variants get petrol-manual while petrol-automatic combination is available in all 4 variants. The petrol-manual variants cost between Rs. 11.46 lakh and Rs. 13.91 lakh. The petrol automatic costs an additional Rs. 1.30 lakh to Rs. 1.40 lakh. The City normal petrol-automatic range starts at Rs. 12.86 lakh and goes up to Rs. 15.21 lakh.
The ZX Sensing variant gets a hybrid petrol-automatic powertrain and costs Rs. 19.50 lakh (ex-showroom). So, the hybrid engine carries a premium of almost Rs. 4.29 lakh. Although, besides better fuel efficiency, it adds a few extra features, which we'll look at later in the article.
Honda City Petrol V - Base Model Standard Features
The base V variant of the 5th gen Honda City costs Rs. 11.46 lakh with the manual transmission and Rs. 12.86 lakh with the CVT automatic. The notable standard features of the 5th-gen City petrol are:
2 front and 2 front side airbags
Traction control
Hill-start assist
Electronic stability control
Day/night inside mirror
Rear defogger
Halogen projector headlamps
Tyre pressure monitoring system
3-point seatbelts for all occupants
Fog lamps
8-inch touchscreen with Android Auto and Apple Carplay
Steering-mounted controls
Power mirrors with folding
Tilt & Telescopic Steering
Auto AC w/ Rear AC Vents
Keyless Entry w/ Push-button Start/Stop
Front Armrest w/ Storage
LED DRLs
Rear Armrest
Cruise Control
15-inch Alloy Wheels
Telematics
Paddle Shifters (CVT)
Fixed Rear Headrests
Fabric Upholstery
Remote Functions w/ Alexa Voice Assistant
LED Tail Lamps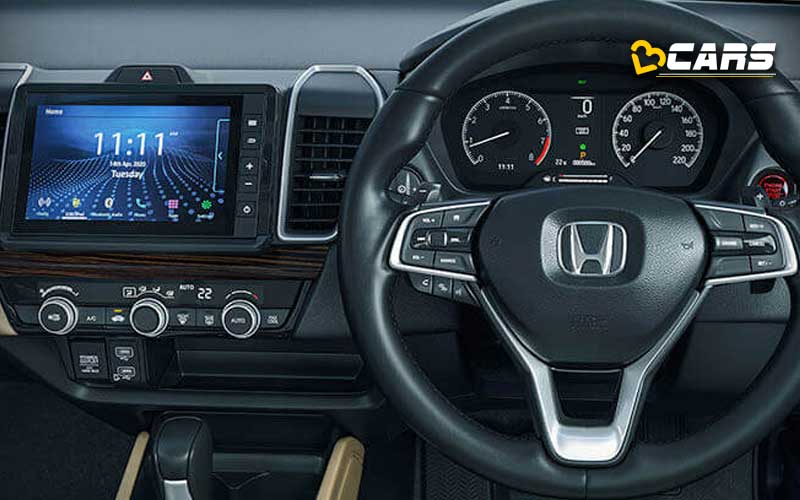 As you can see, it has a very long list of features for a base variant. It clearly doesn't look like a base variant and has enough features to hang with the top variants of some of its rivals, which cost about the same. This is a great option and worth buying. This variant is a great value offering too and is our top recommended variant of the Honda City. Now, let's see if the higher variants justify their incremental asking price.
5th Gen Honda City Petrol V vs VX Variant - Price & Feature Comparison
The VX variant of the new Honda City costs Rs. 12.92 lakh with the manual transmission and Rs. 14.22 lakh with the automatic. With the manual transmission, it's Rs. 1.46 lakh more expensive than the V variant. With the automatic, the price gap between the City VX petrol and V petrol is Rs. 1.36 lakh. For the additional sum, you get the following notable features:
2 Curtain Airbags
Auto Headlamps
Electric Sunroof
7-inch full-colour instrument console
Auto-dimming inside mirror
4 Speakers
16-inch Machined Alloy Wheels
Walk-away Auto-Lock
Rear Reading Lamps
Leather-wrapped steering and gear knob
This variant comes very close to justifying its asking price. However, most of its features are good-to-have and may have a higher perceived value for some buyers. While value-wise, the mid variant doesn't quite justify the incremental cost, it's still worth considering if you want some of these features in your car.
Honda City Petrol VX vs ZX Variant
The Honda City ZX petrol costs Rs. 13.91 lakh (manual transmission) and Rs. 15.21 lakh (automatic). It's almost Rs. 1.0 lakh more expensive than the VX petrol and adds the following features:
LED headlamps
LED cabin lights
LED Turn Indicators
Lane Watch Camera
Remote Open/Close Power Windows & Sunroof
LED Fog Lamps
Ambient Lighting
Rear Windshield Curtain
Leather Upholstery
Soft-touch Interior Elements
The ZX too mostly adds good-to-have features with high emotional value. This variant also doesn't justify spending this additional sum. Since it has more functional features, this is a better option to consider than the VX variant. Strictly from a value perspective, the ZX variant is not a suitable choice, but we still think that it's worth a look if it fits within your budget as it is a better option overall than the mid-spec VX.
Honda City Petrol ZX vs ZX Sensing Hybrid Variant
The Honda City ZX Sensing hybrid petrol costs Rs. 19.90 lakh and it's only available with the automatic transmission. It's almost Rs. 4.58 lakh more expensive than the ZX normal petrol-automatic. For this price, it adds a hybrid powertrain, which drastically improves the mileage and also offers the following features:
Electronic parking brake
Rear disc brakes
ADAS (Advanced Driver Assistance Systems) Features

Lane keep assist
Auto emergency braking
Auto high beam
Road departure mitigation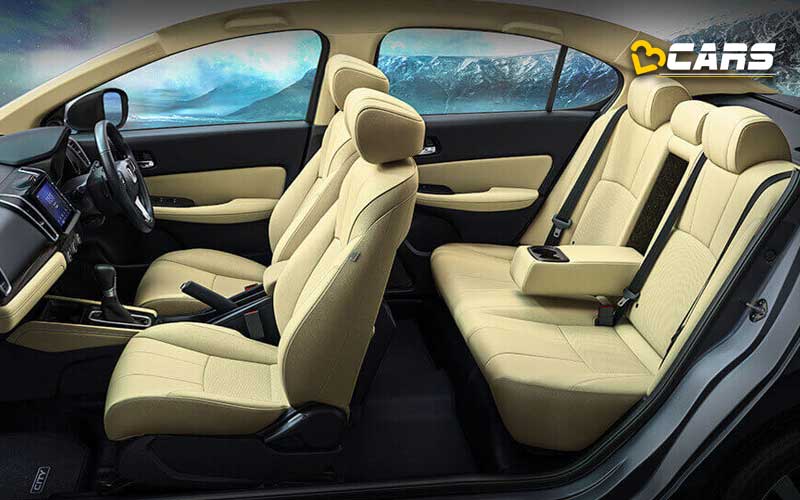 While the list of features appears small, it's worth noting that these are high value features. Besides these features, it also offers more torque and a higher claimed mileage of 26.5kmpl, which is 8.1kmpl or about 44% better than the normal petrol-automatic.
According to our calculations, you're getting performance and features worth about Rs. 1.70 lakh with the ZX Sensing hybrid. So, you only need to recover about Rs. 3.0 lakh from the better fuel efficiency. Using the V3Cars Fuel Cost Calculator, we found that with current petrol prices in Delhi (as of December, 2022), it's saving you about Rs. 1.61 for every kilometre you drive. At this rate, you'll have to drive the car for about 1.85 lakh kilometres to recover the higher upfront cost. Please note that this km-to-breakeven figure is after factoring in the higher performance and feature value of the ZX Sensing hybrid variant.
This is a fairly high figure to recover the higher upfront cost. So, we can't recommend the City ZX Sensing hybrid as the features, performance and higher fuel efficiency don't justify the Rs. 4.29 lakh or so higher price tag over the ZX normal petrol-automatic.
At current fuel prices, the City diesel will breakeven the higher upfront cost in under 90,000km. Unfortunately, it doesn't come with an automatic but it does save you a substantial sum upfront, which controls your opportunity cost.
Which Variant Of The Honda City Petrol Should You Buy?
The V variant of the Honda City is so well equipped that it'll suffice for most buyers. In fact, it may even meet the needs of buyers who are otherwise considering the higher variants of smaller B2-segment SUVs. The base variant of the new, 5th gen Honda City is the most value for money variant and it earns our top recommendation.
The VX variant is not worth upgrading from a value perspective. However, this variant is not too expensive either for the additional features and is worth considering. Most of its features are good-to-have and style-oriented. Hence, we'd recommend that you instead jump to the ZX variant and go all in.
The ZX variant has features like rear curtains, LED headlamps, ambient lighting and you'll appreciate these during the course of your ownership. The recommendation remains the same whether you're buying the City petrol with the manual or the automatic transmission.
For City hybrid buyers, it seems that the ZX hybrid is quite an expensive upgrade for the additional features, performance and mileage improvements. So, we don't recommend upgrading to the ZX hybrid variant as it's not a value for money option.
What Are The Engine Specifications Of The Honda City Petrol?
Honda improved the drivability of the City's petrol engine by bringing down the peak torque RPM down by 300rpm compared to the 4th gen model. However, it still maintains its rev-friendly nature as the 121PS of power comes at a high 6600rpm. The new City arrived with a segment-best power output of 121PS. But it no longer holds that title now that the Skoda Slavia and Volkswagen Virtus have the 1.5L turbo petrol engine. The Virtus and Slavia 1.5L turbo offer brag-worthy 150PS of power. On the other hand, the City doesn't have any turbo petrol engine options at all.
Turbo petrol engines have better torque output, low and mid-range torque delivery and drivability in the city without adversely affecting fuel efficiency. In fact, turbo petrol engines deliver better real-world mileage figures because you don't need to rev it much to extract the necessary performance. So, even a smaller 1.0L turbo petrol engine can provide better drivability than a larger 1.5L normal petrol engine. This is one area where the City lags behind its rivals like the Virtus, Slavia and Verna as Honda currently don't have a turbo petrol engine in their Indian portfolio.
The City hybrid blows the competition out of the water with a significantly better mileage figure along with a phenomenal torque-to-weight ratio. Only the Virtus and Slavia 1.5L turbo can challenge the City hybrid's torque and torque-to-weight ratio figures. The City's torque is not for burning rubber though, as the power-to-weight ratio is quite low. However, you can expect good drivability from this engine as the electric motor offers low-end torque while the engine meets the top-end performance needs.
*Estimated
You can use our Fuel Cost Calculator to see how much any petrol, diesel or CNG car will cost to run based on the latest fuel price in your city.
What Are The Dimensions Of The Honda City?
The 5th gen City has acceptable performance and doesn't have a cracker of a petrol engine like the Slavia 1.5L turbo. But it has seriously impressive dimensions. The new City, Skoda Slavia and Volkswagen Virtus are setting the benchmark high for the other sedans with their D-segment-like length.
The Slavia and Virtus have the best-in-class boot space of 521 litres but the City's boot capacity is also pretty good at 506 litres. Similarly, it has an acceptable ground clearance of 165mm for a sedan but nothing like that of the Virtus and Slavia's SUV-like 179mm clearance.
The Honda City is seriously under-tyred as even smaller cars like the Baleno get 195-section tyres. Thankfully, this is something that's easy to upgrade and you can easily swap out 1 or even 2 sizes wider rubber for a better stance and grip. However, the larger rotating mass will impact the City's performance and real-world mileage figures.
*Estimated
Find out how you can get the best mileage or fuel efficiency from your car:
10 Tips To Get Better Mileage From Your Petrol, Diesel Or CNG Car
What Are The Colour Options Of The Honda City Petrol?
The 2022 City petrol is available in the following 5 colours:
Red
Silver
White
Grey
Brown
Note: Here is a quick look at our length-based segmentation of cars to give you an idea of how we classify cars based on their size.