Hyundai Set To Start Production At GM's Talegaon Plant In 2025 | V3Cars
Hyundai Motor India Limited (HMIL) have signed an asset purchase agreement with GM to acquire the latter's manufacturing facility in Talegaon, Maharashtra. The carmaker is aiming to start manufacturing operations at the Talegaon facility in 2025. Read on to know more.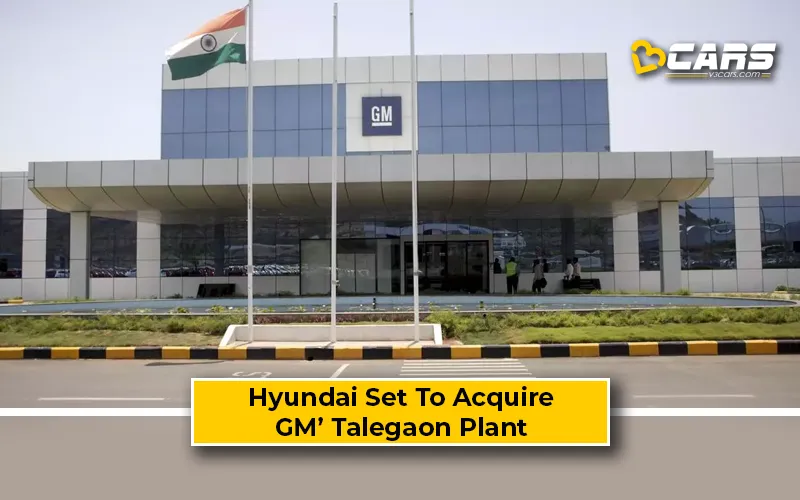 Hyundai Set To Acquire GM's Talegaon Plant
Hyundai have revealed their plans to begin production at the GM's Talegaon facility in 2025. The new plant should help Hyundai improve their overall production capacity. Thanks to the potential increase in production, Hyundai are re-evaluating their EV roadmap for India and could launch more electric vehicles than initially envisioned in the near future. Currently, the GM plant has an annual manufacturing capacity of 1.30 lakh vehicles. With the acquisition, Hyundai aim to increase their annual production capacity to 1 million vehicles per year.
Note: Instantly Sell Your Old Car With V3Cars Sell Used Car platform
Recently, Hyundai enhanced their manufacturing facility in Sriperumbudur, Chennai with an increased annual production capacity of 8.20 lakh vehicles. Apart from cars and SUVs powered by internal combustion engines, the newly-revamped plant will also manufacture future electric vehicles that are specifically built for the Indian market. The agreement includes the acquisition of identified assets and assignment of land and buildings as well as certain machinery and manufacturing equipment.
Note: Now Find Out The Fuel Price In India Using V3Cars
Announcing the asset purchase agreement, Mr. Unsoo Kim, Managing Director and CEO, Hyundai Motor India Ltd., said, "This year is a significant milestone for Hyundai Motor India, as we celebrate 27 years of activity in the market. Demonstrating our dedication to India, earlier this year, HMIL entered into a Memorandum of Understanding (MoU) to invest INR 20,000 crore in Tamil Nadu for expanding capacity and establishing an electric vehicle ecosystem. As we reinforce our commitment to 'Atmanirbhar Bharat' (Self-Reliant India), we intend to create an advanced manufacturing center for Made-in-India cars in Talegaon, Maharashtra. Our manufacturing operations are scheduled to begin in Talegaon, Maharashtra, in 2025."
Also Read: Kia Seltos Bags Over 31,000+ Bookings Within One Month