Kia Sonet Hits 1 Lakh Sales In 12 Months Despite Covid Related Issues
Kia Sonet sales reached the 1 lakh mark in under 12 months since launch. This is despite the emergence and then resurgence of the Covid pandemic which not only affected the demand but also the supply chain.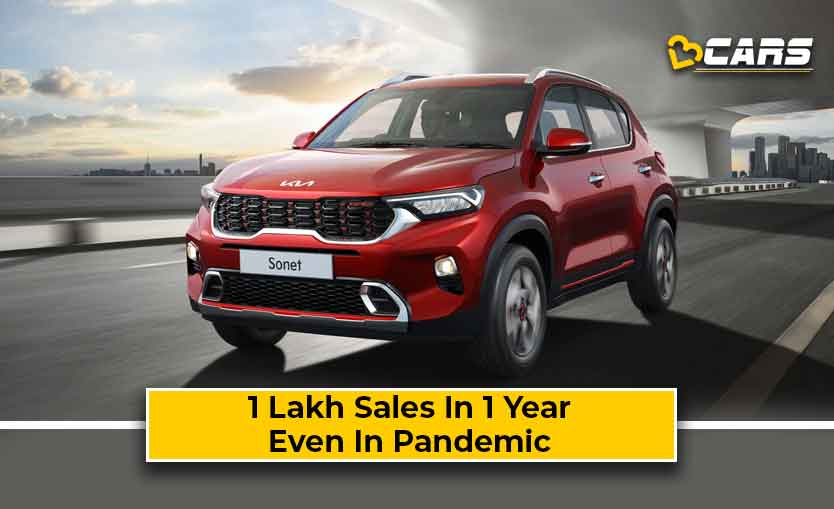 On the demand side, the pandemic limited the need to travel, led to poor economic conditions and buying power. On the supply side, the chip shortage and rising input costs because of metals getting expensive. This made it difficult for carmakers to keep up with whatever little demand they had while maintaining the prices without affecting their margins.
We can attribute Sonet's success to the car's design, pricing, feature distribution and wide range of engine-transmission combinations. No matter what your need, you can find a variant and engine transmission combination to meet them. There's a city-friendly 1.2-litre normal petrol engine and a multi-purpose turbo petrol engine with auto-clutch manual as well as DCT automatic. For the mile munchers, there's the torquey and highway-friendly diesel engine with manual and automatic.
It's consistently attracting more than 7,000 customers every month. While it's less than the Venue, Brezza and Nexon's monthly figures, it's astonishing considering that this is only one of 3 cars Kia sell in India.
Also Read: September 2021 - Kia Sonet Prices Increased - Old Vs New Price Comparison
We think you should consider buying one of the popular and best-selling cars for various reasons.
To know more, read: 5 Reasons Why You Should Buy A Best-Selling Car - And 2 Reasons Why You Shouldn't