May 2022 Cars Sales Analysis - B2-Segment SUV YoY, MoM Change, 6-Month Trend | V3Cars
In this May 2022 cars sales analysis article, we'll look at the YoY and MoM change in sales figures of all B2-segment SUVs in India. We'll also include our observations based on the sales data and possible reasons behind a massive increase or drop in sales, where applicable. Lastly, the table with monthly sales of all B2-segment SUVs for the last 6 months will give you an idea about the 6-month sales trend.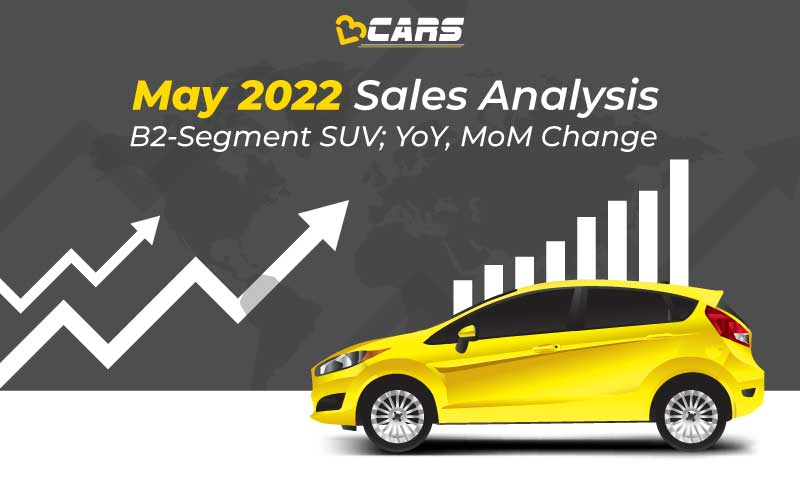 B2-Segment SUV May 2022 Car Sales - YoY Change
Among B2-segment SUVs the Nexon holds the top spot followed by the Brezza as they did in April 2022 YoY
Brezza and Nexon are the only 2 B2-segment SUVs with 5-figure sales in May 2022
The Mahindra XUV300 was the biggest gainer with a 1900% YoY sales gains followed by the Toyota Urban Cruiser with 66.6% gains
The WRV was the biggest loser with 47% drop followed by Kia Sonet, which suffered a YoY drop of 30% in April 2022
The EcoSport's sales are down to zero as Ford have withdrawn from India
B2-Segment SUV May 2022 Car Sales - MoM Change
Just like April 2022, Nexon and Brezza are the only 2 B2-segment SUVs with 5-figure monthly sales
The Kia Sonet witnessed the biggest MoM increase of 46% in May 2022 and was the top gainer of April
Renault Kiger was the biggest MoM loser in May 2022 registering a loss of 47.3%
Honda WR-V, which saw a massive gain in April 2022, went to book a drop of 14% in May 2022, along with Urban Cruiser from Toyota which recorded a decline of 11%
Like April, Bolero continued its upward trend of 14% in May as well
Among top losers are the Renault Kiger and Nissan Magnite with a 47% and 2.34% MoM drop in May 2022
Mahindra Thar, Hyundai Venue and Nissan Magnite's sales remained pretty much flat
B2-Segment Hatchback — 6-Month Sales Trend (Dec 2021 - May 2022)
Note: Check your Car EMI with our - Car Loan EMI Calculator
You can use our Fuel Cost Calculator to see how much any petrol, diesel or CNG car will cost to run based on the latest fuel price in your city.