May 2022 Hyundai Car Sales Analysis - YoY, MoM Change | V3Cars
In this May 2022 Hyundai cars sales analysis article, we'll look at the car sales of Hyundai for the previous month. We'll also compare the YoY and MoM change to find out which Hyundai cars sales are improving and which ones are declining.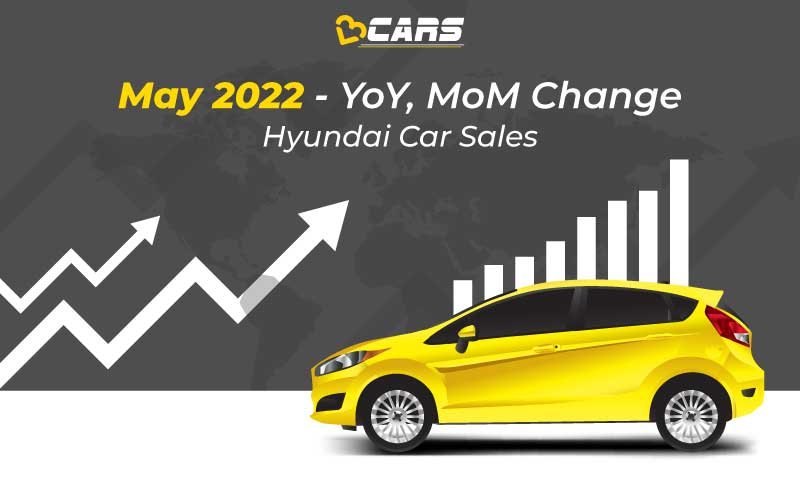 May 2022 - Hyundai Car Sales Figures - YoY Change
For Hyundai, the Creta was still the top performer with just shy of 11,000 units in May 2022 and over 7,500 units in May 2021.
Creta was the only car from Hyundai that managed a 5 figure mark.
The Grand i10 and Venue are the next best performers. In terms of YoY change in May 2022, the Grand i10 and Venue registered a growth of 140.22% and 71.49%, respectively.
The top losers in Hyundai's product line are Elantra and Tucson, which recorded negligible production in May 2022.
Among top gainers are the Kona and Xcent-Aura combo, which grew 102% and 814.29%, respectively.
The Kona stands out even more when looking at YoY change with a 814.29% improvement which sold just 7 units in May 2021.
May 2022 - Hyundai Car Sales Figures - MoM Change
Verna's production nearly doubled in May 2022 as it recorded a 90.5% MoM growth
Although Tucson is still the top loser in MoM registering a decline of 97.87%
The impact of new City, Slavia and the recently-launched Virtus showed evident decline in Verna's sales figures in April, but inexplicably Verna picked up pace in May
Hyundai — 6-Month Sales Trend (Dec 2021 - May 2022)
Note: Check your Car EMI with our - Car Loan EMI Calculator
You can use our Fuel Cost Calculator to see how much any petrol, diesel or CNG car will cost to run based on the latest fuel price in your city.