Tata Tigor CNG, Tiago CNG - Expected Power, Torque, Prices
The Tata Tiago CNG and Tata Tigor CNG will launch on January 19, 2022. While we wait for more details from official sources, let's use the engine specs details of other CNG cars to try and estimate the power and torque output of the first ever CNG cars from Tata Motors.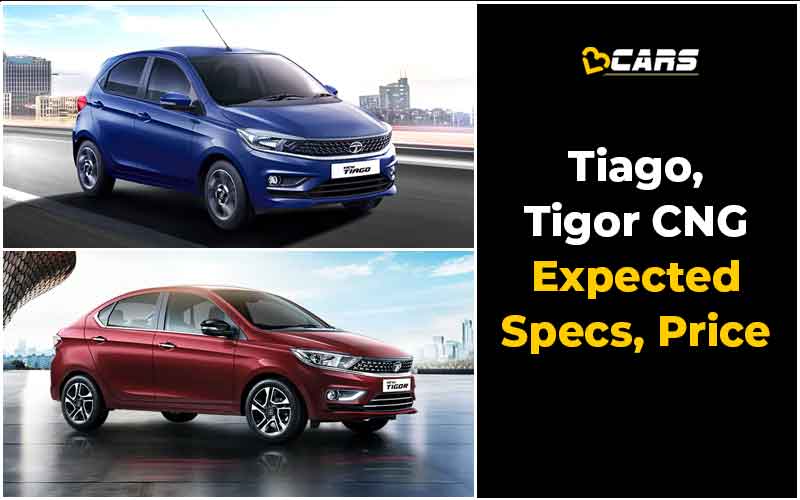 We currently have the following CNG cars in the Indian market:
Maruti Suzuki Ertiga

Maruti Suzuki WagonR

Hyundai Santro

Hyundai Grand i10

Hyundai Aura

Maruti Suzuki Alto

Maruti Suzuki SPresso
These cars are available with petrol engine models and also have a CNG bi-fuel option. We all know that bi-fuel cars have less performance when running on CNG. So, we'll first figure out the drop in power and torque output for various bi-fuel cars when running on CNG compared to the output when running on petrol.
CNG CARS POWER TORQUE

Ertiga

WagonR

Grand i10

Santro

Alto

Displacement

1.5L

1.0L

1.2L

1.1L

0.8L

Power (Petrol)

105PS

69PS

83PS

69PS

48PS

Power (CNG)

92.5PS

59PS

69PS

60PS

41PS

Drop in Power

11.90%

14.49%

16.87%

13.04%

14.58%

Torque (Petrol)

138Nm

90Nm

114Nm

99Nm

69Nm

Torque (CNG)

122Nm

78Nm

95Nm

85Nm

60Nm

Drop in Torque

11.59%

13.33%

16.67%

14.14%

13.04%
As you can see in the above table, the power output of petrol cars drops by anywhere between 11.9% and 16.87%. The Hyundai Grand i10 has the biggest drop in power. For the torque output when running on CNG, numbers are 11.59% to 16.67% lower than when running on petrol.
Also Read: Tata Tigor CNG, Tiago CNG Launching On Jan 19
Tata Tiago CNG, Tigor CNG Engine Specs - Expected Power, Torque Output
Based on these estimates, we can say that the Tiago and Tigor CNG could have an estimated power output of 71.5 to 75.8PS. Meanwhile, the Tata Tiago CNG and Tigor CNG could make a peak torque between 94Nm and 100Nm. We are expecting the two cars to make about 72PS of power and 95Nm of torque.
With the 1.2L petrol engine, the Tata Tiago and Tigor make 86PS of power at 6000rpm. Their torque output stands at 113Nm, which, for a petrol engine, peaks at a fairly low 3300rpm and offers good drivability.
Tata Tiago CNG, Tigor CNG Engine Specs - Expected Prices
Currently, Maruti Suzuki charge a flat premium of Rs. 90,000 for the factory CNG kit over the petrol model. Meanwhile, Hyundai charge about Rs. 70,000 to 77,000 for the CNG kit in the Santro. With the Grand i10 Nios, the price jump for the CNG kit is roughly between Rs. 92,000 and Rs 1.07 lakh. For the Aura CNG, Hyundai ask for an additional Rs. 94,000. This premium is quite high for the CNG kit.
We expect Tata Motors to charge about Rs. 80,000 for the CNG kit over the comparable variants of the Tiago petrol and Tigor petrol. With such a pricing, the two new Tata CNG cars will remain fairly competitive while still offering a good km-to-breakeven figure from the lower running costs.
Assuming that the Tiago CNG comes in mid spec XT and XZ variants, we can expect them to cost Rs. 6.52 lakh and Rs. 6.93 lakh (ex-showroom). The Tigor XM CNG could cost Rs. 7.08 lakh and the Tigor XZ CNG could cost Rs. 7.49 lakh. Note that these prices are based on an assumption that the CNG kit could carry a premium of Rs. 80,000 over the petrol model.