Tata Tigor CNG, Tiago CNG Launching On Jan 19
The Tata Tiago CNG and Tata Tigor CNG will launch on January 19, 2022. We had seen the spy shots of camouflaged Tiago and Tigor CNG several times while Tata were testing them on public roads.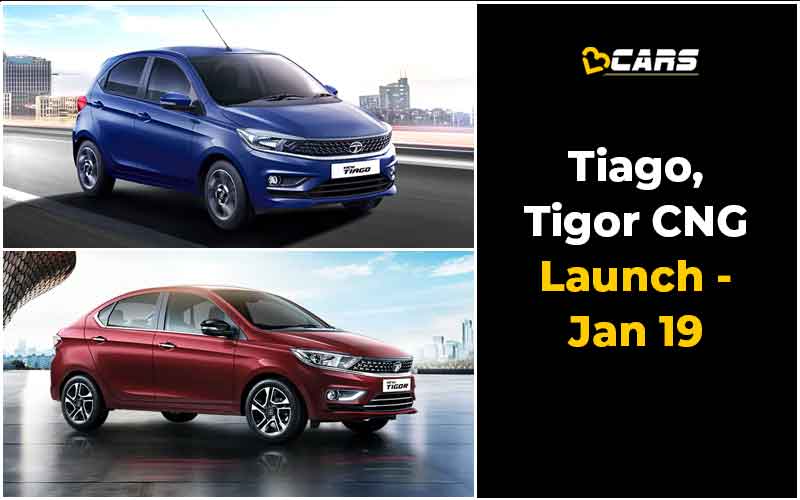 Currently, Maruti Suzuki dominate the factory-fit CNG car market. Meanwhile, Hyundai are the only competitor for Maruti Suzuki with 3 factory CNG cars - the Santro, Grand i10 Nios and Aura.
Now, we have Tata Motors entering the space. While Tata may not put a dent in Maruti Suzuki's sales, they sure have a solid shot at snatching the second spot from Hyundai. In the month of December 2021, Tata Motors managed to grab the second spot after Maruti Suzuki by dispatching more cars than Hyundai. This is most likely the only time any carmaker has managed to push Hyundai out of the second position.
While Hyundai have maintained a distant second spot in terms of sales numbers, they have held onto it for about 2 decades. This left the rest of the carmakers to fight it out for the third spot. The demand for Tata cars in December 2021 should boost the Indian carmaker's morale to become the second largest CNG passenger car company.
Expected Prices - Tata Tiago CNG, Tigor CNG
We expect the 2 CNG cars from Tata to cost about Rs. 80,000 more than the petrol models. If our estimation comes true, then this premium will still remain lower than the rivals. Assuming that the Tiago CNG comes in mid spec XT and XZ variants, we can expect them to cost Rs. 6.52 lakh and Rs. 6.93 lakh (ex-showroom). The Tigor XM CNG could cost Rs. 7.08 lakh and the Tigor XZ CNG could cost Rs. 7.49 lakh. Note that these prices are based on an assumption that the CNG kit could carry a premium of Rs. 80,000 over the petrol model.
Click on the link below to go to our article on CNG variant prices of Maruti Suzuki and Hyundai. In this article, we explain how we arrived at these estimates using the premium Hyundai and Maruti Suzuki charge for their CNG models. Here we also estimate the engine specs, such as power and torque output of the Tata Tiago CNG and Tigor CNG based on how much drop in power and torque we get from the current crop of CNG cars from Hyundai and Maruti Suzuki.
Also Read: Tata Tigor CNG, Tiago CNG - Expected Engine Specs, Power, Torque, Prices