Toyota Innova Hycross Expected Prices | V3Cars
In this article, we'll estimate the ex-showroom prices of 2023 Toyota Innova Hycross and explain the logic behind the calculations. Let's start with establishing the baseline price for the Innova Hycross.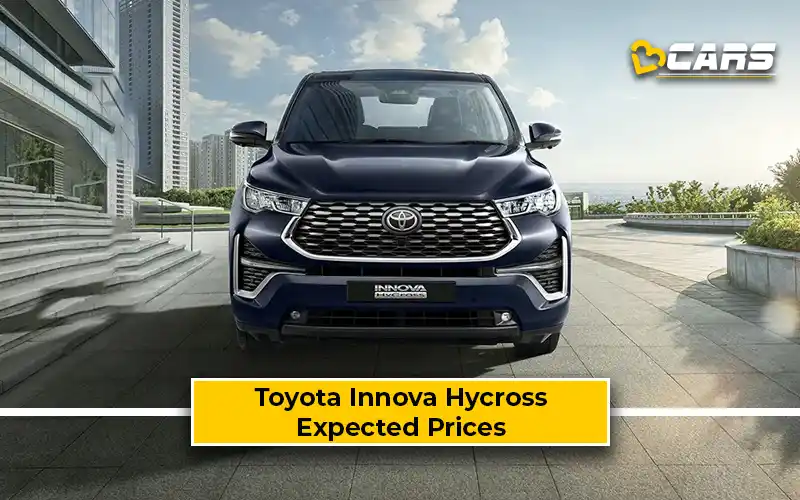 Toyota Innova Hycross G-SLF Variant Expected Price - Rs. 17.50 lakh
The current Innova Crysta petrol variants' prices start around Rs. 17.50 lakh. While the new Hycross has better styling, it also has a unibody frame and a much smaller 2.0L normal petrol engine. So, Toyota are saving some costs in both of those areas as well. For the buyers, a smaller engine hauling a lighter kerb weight will also result in better fuel efficiency and thereby more cost savings.
We don't expect Toyota to sell the Innova Hycross at a lower cost than before as it could dilute the Innova brand. So, instead, we're expecting Toyota to pass on the savings in manufacturing cost in the form of an automatic transmission as the Hycross is not available with a manual in any variant.
Moreover, the bleak economic conditions around the world are hinting at a slowdown after a 2-year sprint. Matching the starting price of the Innova Crysta will make sure that buyers don't perceive it as expensive.
Toyota Innova Hycross GX Variant Expected Price - Rs. 19.0 lakh
The GX variant adds features worth ~Rs. 1.0 lakh over the G-SLF variant. We've noticed several manufacturers offer some useful and must-have features in the lower variants to encourage buyers to skip the base model.
However, for the necessities, the manufacturers also charge a decent premium. Which means, the 2nd variant from the base often doesn't come close to justifying its incremental cost over the base model. Still, some buyers go for these to avoid spending more. With that in mind, we can expect the GX normal petrol-automatic model to cost Rs. 19.0 lakh (ex-showroom); thus paying ~Rs. 50,000 more than what the features justify.
To know more about the variant-wise features and our booking recommendations for the Innova Hycross, you can visit the following Hycross Variants Explained link:
Toyota Innova Hycross Petrol Variants Explained - Which One To Book?
Toyota Innova Hycross VX Hybrid Variant Expected Price - Rs. 24.0 lakh
The VX variant gets the hybrid powertrain, which is the main talking point of the Hycross. Normally, a diesel engine carries a premium of about Rs. 1.0 lakh to Rs. 1.50 lakh over a comparable variant with a normal petrol engine. In such a case, the diesel engine is able to deliver better fuel efficiency to make up for some of the price difference.
In the case of the Hycross, the hybrid engine is even more fuel efficient than the diesel-automatic in the Innova Crysta. You can read about fuel cost differences between the Innova Hycross hybrid petrol-automatic and Innova Crysta diesel-automatic at the link below:
Toyota Innova Hycross Hybrid Petrol Vs Innova Crysta Diesel-Automatic - Fuel Cost Comparison
Also Read: 10 Tips To Get Better Mileage From Your Petrol, Diesel Or CNG Car
Note: Check your car's fuel cost with Fuel Cost Calculator in India
The Hycross hybrid saves about Rs. 1for every kilometre you drive compared to the diesel-automatic. Hybrid engines also have good bottom-end torque to simulate a diesel-engine like city and highway drivability. Keeping this in mind, we can expect the powertrain alone to carry a premium of about Rs. 2.50 lakh over the 2.0L normal petrol engine.
In terms of features, the VX variant offers about Rs. 1.50 lakh worth of features. Once again, considering the desirability of the hybrid powertrain and the importance of the features we consider must-have for a car in this segment, we can expect Toyota to charge a healthy Rs. 2.50 lakh for the features.
According to our estimates, this brings the total price gap to Rs. 5.0 lakh and we can expect the VX hybrid to cost Rs. 24.0 lakh (ex-showroom).
Toyota Innova Hycross ZX Hybrid Variant Expected Price - Rs. 27.0 lakh
Now the ZX variant offers features worth almost Rs. 4.0 lakh in terms of perceived value. This is where the manufacturers make a lot of money and this is where they usually want to push us. As buyers, seeing that buying a higher variant gives us better value even if it adds mostly good-to-have features makes it easy for us to justify the spending to our heart with some logic.
Manufacturers often sell these variants at a lower incremental cost than the lower variant to make this upgrade almost impulsive for us. So, despite a perceived feature cost of Rs. 4.0 lakh, we think this variant will actually only cost Rs. 3.0 lakh more than the lower VX, bringing the estimated ex-showroom price to Rs. 27.0 lakh.
Toyota Innova Hycross ZX (O) Hybrid Variant Expected Price - Rs. 29.0 lakh
Finally, the ZX (O) variant only adds features related to advanced driver assistance systems (ADAS) but they don't include auto-emergency braking (AEB). If you are keeping a track of the news, then you must have noticed some rear-end collisions because an ADAS-equipped car applied brakes suddenly. The car following didn't have enough time to react and the ADAS car managed to avoid a forward collision but couldn't avoid a rear-end collision. Removing the auto-emergency braking from the Hycross is a smart move on Toyota's part. The hardware is there to enable it in future if the buyers become accepting of AEB and get more comfortable with ADAS.
If I were the manufacturer selling a car with such advanced technologies, I'd want to be a little careful and it's showing in Toyota's approach. Exclusively offering the ADAS features is the 2nd thing they're doing to limit the number of ADAS-equipped vehicles on the road. The fewer the number of vehicles on the road, the lower the likelihood of people getting into trouble because of ADAS features.
These are also highly desirable for people who want these features. You know that if you want these features, then you'd be ready to pay a hefty price for the convenience, safety and/or bragging rights. Therefore, we're expecting the ZX (O) to cost Rs. 2.0 lakh more than the ZX even though they only offer about Rs. 1.0 lakh worth of perceived value.
Note: Check your Car EMI with our - Car Loan EMI Calculator
Room To Hike Prices If Necessary
As stated earlier in the article, the economic conditions are worsening around the globe. Demand for vehicles is slowing down after reaching sky-high levels in the last year or so.
Keeping a sane price will make the Hycross a favourite among buyers and also help Toyota establish their prowess in making durable monocoque vehicles.
However, if the economic conditions improve and demand grows further, then there should be room to increase the prices a bit without breaching critical psychological barriers. For example, the GX variant's Rs. 19.0 lakh price can go up to Rs. 19.99 lakh, the VX hybrid can shoot up to Rs. 24.99 lakh and the ZX (O) can move to Rs. 29.99 lakh.
Thus, in our opinion, these ex-showroom prices allow Toyota to establish a reasonable starting price and increase footfall at their showrooms while leaving room for a couple of price hikes should the need arise.