Toyota Launches Copen GR Sport - A 2-Seater Convertible Sports Car At Rs. 16 Lakh
Toyota has launched the Copen GR Sport for their Japanese customers. The Copen is a 2-door, 2-seater sports car, engineered by Toyota's Gazoo Racing sports division. Think of it like BMW's M or Mercedes' AMG equivalent. The hard-top is electrically retractable and that mechanism is sure to eat into the book space and also add to the overall weight.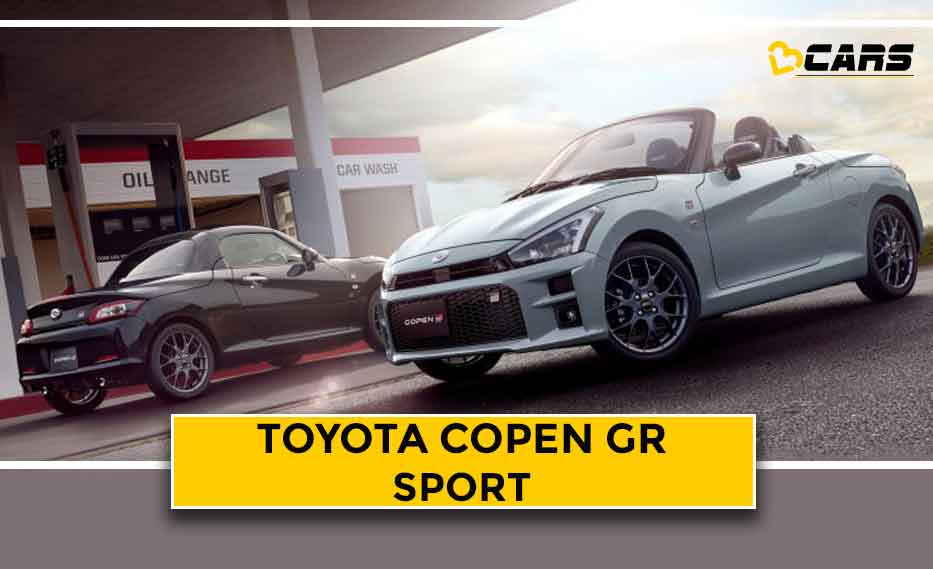 Toyota Copen GR Sport Price
The car costs Japanese Yen 24.35 lakh (~Rs. 16 lakh) for the 5-speed manual version JPY 23.8 lakh (~Rs. 15.65 lakh) for the one with CVT. The CVT one gets paddle shifter for 7 pre-determined shift points. But, that's not an ideal way to enjoy a compact sports car. The manual one is the way to go.
Toyota Copen GR Sport Specs
| | |
| --- | --- |
| Spec | Value |
| Length | 3395mm |
| Width | 1475mm |
| Height | 1280mm |
| Wheelbase | 2230mm |
| Displacement | 658cc (Turbo) |
| Cylinders | 3 |
| Drivetrain | Front-wheel drive |
| Transmission | CVT / 5 MT |
| Power | 64PS @ 6400RPM |
| Torque | 92Nm @ 3200RPM |
| Fuel Efficiency | 18.6-19.2kmpl (Euro) |
The Japanese market is a fun one. They get to enjoy a lot of compact, fun vehicles that neither burn the pocket nor the environment. This is exactly the kind of car we need in India. Cars that you can enjoy without having to go triple-digit speeds. No one would even cough at a 660cc engine in India but 64 is enough horses to have fun on a daily commute. The stiffer suspension and chassis, Recaro bucket seats and no roof on top will surely make you forget everything for a moment.
Toyota Copen GR Sport Competition - Other Compact 2-Seater Sports Cars
But, the GR Sport is not the only compact, convertible, 2-seater sports car from a major Japanese carmaker. Honda too has something similar. The Honda S660 is another example that has a 660cc 3-cylinder turbo petrol engine. It's just as long as the Copen GR Sport and has similar horsepower but a bit more torque. AND, it's a rear-wheel drive. The Honda S660 is even cheaper than the Toyota Copen with prices ranging from JPY 20.17 lakh to JPY 22.26 (~Rs. 13.27 - 14.65 lakh). 
Then, if you're willing to spend a little more, there's the Mazda Roadster, also known as the Mazda Miata or the Mazda MX5. It doesn't fit the Japanese Kei car constraints with a bigger engine and a longer body, but it doesn't cost all that much either. The 1.5-litre variant makes 130PS and 150Nm and sends all that torque where God Himself intended - to the rear wheels. It starts at JPY 2601 (~Rs. 17 lakh).
Trivia Time
The Mazda Miata's 1496cc 4-cylinder engine is the same one we get in the Toyota Yaris sedan. In the Roadster, it's in a different state of tune.