2019 BMW X5 Launched At INR 72.90 Lakh
BMW has launched the new 4th generation of the X5 SUV in India at a starting price of Rs 72.90 lakh. It is available in three variants: xDrive30d Sport, xDrive30d xLine and the xDrive40i M Sport, priced up to Rs 82.4 lakh (ex-showroom). The 2019 BMW X5, which is assembled at BMW India's plant in Chennai, is available with petrol and diesel motor choices – the petrol comes just in the M Sport variation, while the diesel will be offered in Sport and xLine trims. While BMW dealers will have the diesel X5 in stock from the launch, the petrol models will be accessible later in 2019.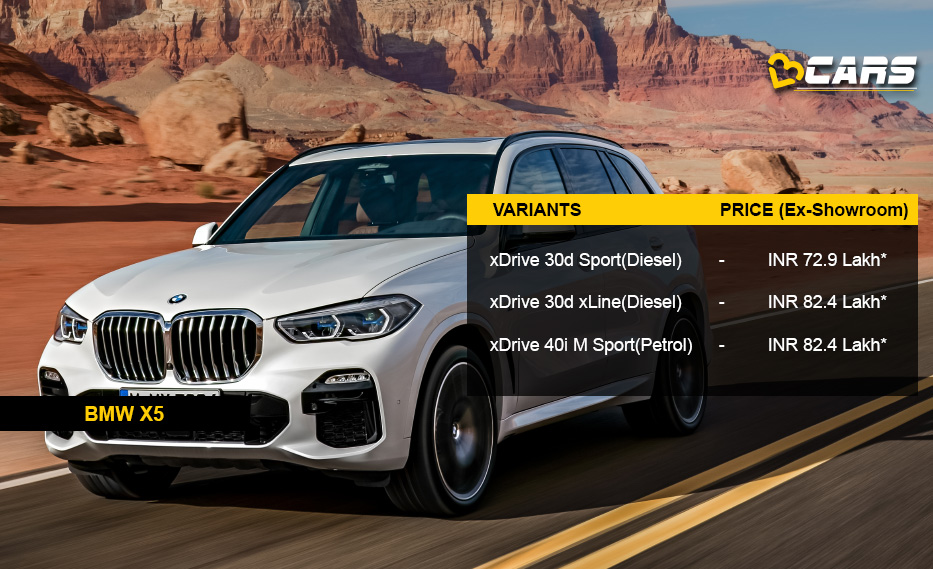 Discounted in the UK from June 2018, the all-new X5 shows the most recent BMW progresses in innovation, structure, and safety, with the largest amount of independent capacity yet observed on a BMW X model. A decision of TwinPower and M Performance petrol and diesel motors are equiped with eight-speed Steptronic gearbox and the most recent adaptation of xDrive for greatest solace, ability, and execution.
BMW X5 Dimension:
| | |
| --- | --- |
| 2019 BMW X5 | Dimension |
| Length | 4922 mm |
| Width | 2004 mm |
| Height | 1745 mm |
| Wheelbase | 2975 mm |
With a wheelbase 42mm longer than its ancestor, an expansion in vehicle length of 36mm, an additional 66mm of width and a 19mm increment in tallness, the new BMW X5 has both a commanding appearance and liberal dimensions of room for travelers and their baggage.
BMW X5 Powertrain:
| | | | | | | |
| --- | --- | --- | --- | --- | --- | --- |
| Model | Power | Torque | 0-100 kmph | Top Speed | Combined | CO2 Emission |
| X5 xDrive40i xLine | 340 hp | 450 NM | 5.5 sec | 151 mph | 33.2 mpg | 193 g/km |
| X5 xDrive30d xLine | 265 hp | 620 NM | 6.5 sec | 143 mph | 47.1 mpg | 158 g/km |
| X5 M50d | 400 hp | 760 NM | 5.2 sec | 155 mph | 41.5 mpg | 179 g/km |
There will be one petroleum and two diesel units accessible from the most recent age of motors. The BMW X5 M50d is controlled by a six-chamber in-line diesel motor with four turbochargers. A six-barrel inline unit controls the BMW X5 xDrive40i and BMW X5 xDrive30d. All motors channel their capacity through an eight-speed Steptronic transmission, while BMW xDrive savvy all-wheel drive is available to guarantee that control is converted into secure advancement – on or rough terrain.
The BMW TwinPower Turbo innovation bundle for the oil motors involves turbochargers, High Precision Injection, VALVETRONIC completely factor valve timing and Double-VANOS variable camshaft timing. On the diesel side, the heap of mechanical measures at work incorporates turbochargers and normal rail direct infusion with piezo injectors. The outcome is a quick pulling force and lively execution certifications with praiseworthy fuel utilization and emanations. Every single model variation consent to the prerequisites of the EU6d-TEMP outflows standard. The arrangement of outflow control for the oil motors incorporates a gas particulate channel, while the diesel models brag BMW BluePerformance innovation involving a particulate channel, an oxidation impetus, a NOx adsorption impetus and an SCR impetus with AdBlue infusion.
The power unit fitted in the new BMW X5 xDrive40i appreciates free-revving capacity and anxious reaction. The 3.0-liter unit utilizes a twin-scroll turbocharger and direct oil infusion innovation with the most extreme weight of 350 bar. The straight-six creates its most extreme yield of 340hp, while the pinnacle torque of 450Nm is accessible. The new BMW X5 xDrive40i finishes the zero to 62mph dash in simply 5.5 seconds. Fuel utilization midpoints 33.2mpg and CO2 outflows are 193g/km.
The exhibition of the new BMW X5 M50d is given by the powerful motor at work under its hat. From its 3.0-liter relocation, the BMW M Performance model's six-barrel in-line unit conveys a pinnacle yield of 400hp and produces the greatest torque of 760Nm.
These figures are conceivable gratitude to a multi-organize turbocharging framework made out of two high-weight and two low-weight turbochargers conveying over 450Nm of torque. In ordinary driving circumstances, both low-weight turbochargers and one of the two high-weight units are for all time dynamic. The second high-weight turbocharger possibly participates in when the motor speed tops 2,500rpm. Under hard speeding up from inactive, folds are balanced so the pair of low-weight turbochargers can be quickly avoided, along these lines creating the greatest accuse weight of even less deferral. To help the turbocharging framework's productivity, fumes gas distribution is utilized for both the high-weight and low-weight stages and the normal rail direct infusion framework fit for creating weights more than 2,500 bar. The new BMW X5 M50d darts to 62mph from rest in 5.2 seconds yet it prevails with regards to posting a joined fuel utilization of 41.5mpg and CO2 outflows of 179g/km.
The new BMW X5 xDrive30d is additionally controlled by a straight-six diesel motor, this time with the removal of 3.0 liters and including a solitary turbocharger with variable delta geometry. The normal rail direct infusion framework impels fuel into the ignition chambers at up to 2,500 bars, the most extreme yield of 265hp, while offering 620Nm of torque. Fit for achieving the 62mph imprint from rest in 6.5 seconds, the new X5 xDrive30d returns consolidated fuel utilization of simply 470mpg, likening to CO2 discharges of 158g/km.
The majority of the motors accessible for the new BMW X5 accompany another, improved variant of the eight-speed Steptronic transmission, whose more extensive proportion spread and new control gadgets help to build the powertrain's general productivity. New torsion dampers lessen rotational abnormalities and converter slip for prevalent move comfort, while improved water powered control empowers even.
ABOUT THE AUTHOR

A diverse bilingual (English and Hindi) Copywriter and Content Creator based in New Delhi, India. With a degree in Journalism, I always had an inclination towards writing.
As a writer, I have worked on content related to automobile, technology, travel, lifestyle, photography and many more.
Previous
Next
---
Related Car News