2020 Hyundai Creta Bluelink Technology Features Explained
The 2020 Hyundai Creta brings with it three brand new engines and 3 kinds of automatic transmissions, which have never been offered on the car before. Along with the mechanical upgrades, like our phones and laptops these days, the Creta also gets a serious software and tech upgrade in the form of Bluelink. It adds a bunch of features, which many Creta buyers will find useful. So, let's get cracking and explain what your new Creta can do.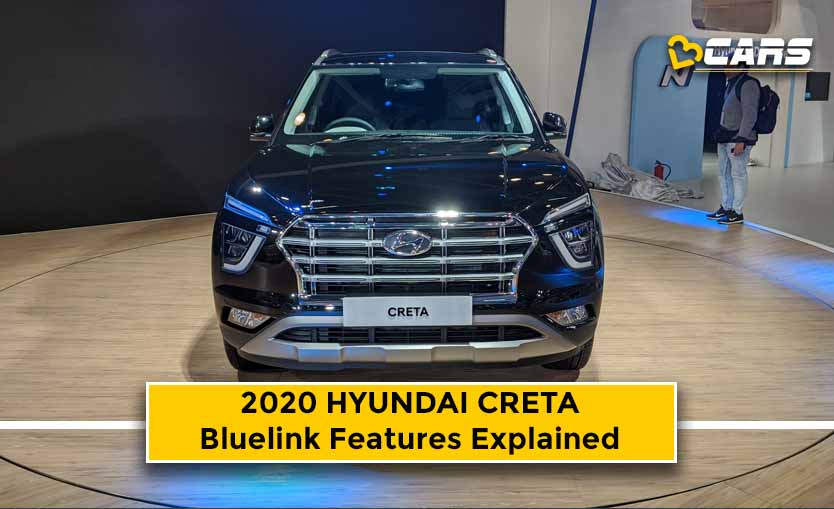 Bluelink Safety Features
The safety features of the Bluelink technology include:
Auto crash notification to emergency services, police and your predefined contacts

SOS Emergency assistance to manually initiate a call to get emergency services to your location

Roadside assistance

Panic button on the car's remote to activate the car's alarm and notify your favourite contacts

Tyre pressure monitoring system notifications in case the pressure is too low
Stolen Vehicle
The security features of the Bluelink allow you to:
Track your stolen vehicle

Get notification if the car's alarm is activated

Immobilize the car's engine if the vehicle is stolen
Remote Features
Using the Bluelink app, you can remotely:
Start/stop the engine

Set auto AC temperature

Lock/unlock car's doors

Activate the car's alarm

Check vehicle status (fuel capacity, AC settings, lock status, sunroof status, etc)

Enable/disable front seat ventilation

Enable/disable air purifier

Check air quality status

Vehicle Lock Status Alert (in case you accidently leave the door, boot, hood unlocked)

Find your car's exact location

Share your car with a secondary user
Vehicle Relationship Management
The VRM features of the Creta with Bluelink include:
Auto system check and notification in case any important controller is malfunction on the car's infotainment screen

Manual system check to diagnose if there's a problem with any of the car's controllers

Monthly health report to review the driving stats

Maintenance alert

Driving behaviour
Location Based Services
The location based services bundled with the Bluelink include:
Send destination to the car via Bluelink app on phone

Get help from the Bluelink representative and ask them to send the destination to your car's infotainment system

Search for points of interests like restaurants, tourist spots, gas stations, etc.

Live traffic information

Share destination with your contacts through the infotainment system

Live car tracking from app

Destination fetched from your schedule based on your appointments in the calendar app

Live car location sharing with your contacts
Alert Services
The alert services in the Bluelink package include:
Geofence alert is sent to you if the car moves outside the pre-defined boundaries

Speed alert will notify you if your friend or family or driver is driving the car above a predefined speed limit

Time fencing alerts are available if the car is being driven outside of the predefined schedule

With the valet alert, you can set the time for which a valet can idle the car, speed limit and boundary in which the value can drive the car

Idle alert will send a notification if the car's engine is running but the car's not moving for more than a predefined duration
Natural Language Recognition
With the new natural language recognition, you can use voice commands to perform action in the car. Moreover, it works with Indian accents as well. Here's what you can do with voice commands:
Use Hello Bluelink as wakeup phrase

Open/close sunroof

Set auto AC temperature, flow direction, enable/disable recirculation and set fan speed

Enable/disable front seat ventilation

Get live cricket scores

Public holidays information

Voice assist to call a contact in your phone book or dictate a number to call

Get weather updates

Set media controls (play/pause, mute, volume control, change radio station, change playback source, etc.)

Set destination for navigation

Ask for time and dates in various countries
Smartwatch Services
Bluelink app is also available on smartwatches with Google's Wear OS or Galaxy watches. Here's what you can do with the Bluelink smartwatch app:
Directly access Bluelink from the watchface by setting it as a complication

Lock/unlock doors

Remote engine start/stop

Sound alarm

Check vehicle status

Check cabin air quality and enable/disable air purifier

Get alerts for geofence, speed, idle exceed, valet, etc.