2023 Hyundai Verna Price Estimations (Expected Price) | V3Cars
In this article, we'll estimate the ex-showroom prices of the 2023 Hyundai Verna. Since Hyundai haven't revealed the variant-wise features, these are only rough estimates. But, Hyundai have revealed the engine-transmission-variant combinations. So, we'll use that information to arrive at our best estimates for the next-gen Verna price.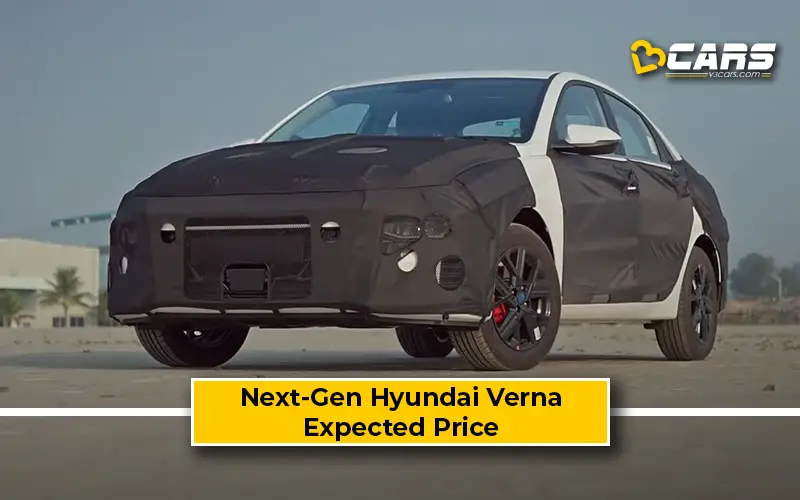 Please note that these are our estimations based on the information available at the time of publishing this article. If Hyundai reveal the variant-wise features, then we will update this article to improve the accuracy of our estimations. Regardless, we'll publish another article once the actual prices are out comparing our estimations and final launch prices of the car. This will help you see where our assumptions were right and where we went wrong.
Also Read: Next-Gen Hyundai Verna 2023 - Top 3 Unique ADAS Features
Honda City Petrol, Hybrid Petrol Variants Explained - Which One To Buy?
Note: Check your car's fuel cost with Fuel Cost Calculator in India
Following are the prices of the Hyundai Verna 2023 as per our expectations:
While the new Hyundai Verna has some additional ADAS features over its competition, we believe they'll reserve the ADAS only for the top model with the automatic transmission. This will limit the reach of the new technology, thus, greatly limiting the risk of harm to the Verna and Hyundai brands.
This is a fairly standard practice among carmakers when it comes to bringing new technology to the market. In case something ends up not working as expected in the real world, the risk of such news going viral are much lower if fewer people have access to their ADAS in the first place. Once they are more confident of their ADAS, we can see it trickle down to more affordable cars.
We've factored in the additional ADAS features in our estimations. Here, the top model of the Verna with the 1.5L normal petrol-automatic powertrain costs Rs. 1.0 lakh more than the City's comparable model.
The presence of 6 airbags in the base variant also sends the signal that Hyundai aren't trying to go for the value positioning. While Verna's base model doesn't get ESC, HSA, TC and TPMS, offering 6 airbags carries more recall among car buyers. So, it'll help them compete with the segment leader while still coming across as a premium-positioned alternative to the Honda City.
On the upper end, we are expecting the top model of the new Verna with the 1.5L turbo petrol-automatic powertrain to cost Rs. 18.30 lakh (ex-showroom). This is in line with the Skoda Slavia's top model with a similar powertrain. So, even if Hyundai later decide to increase the prices of the Verna, it'll still come across as a better value product in comparison to the Slavia and Virtus with its longer feature list.
Also Read: Hyundai Verna - Only Sedan In Segment With 6 Airbags As Standard
Note: Check your Car EMI with our - Car Loan EMI Calculator