Toyota: All Our Cars (<10yr Old) Can Run On E20 Without Problem | V3Cars
In the midst of the glamorous show Toyota had on display during the Auto Expo 2023, we got a chance to speak with Toyota's top officials about the cars on display and their future product plans. As you know, Maruti Suzuki have already announced that they will make all of their products E20 flex fuel compliant by the end of March 2023. So, we wanted to learn more about Toyota's plans towards achieving E20 compliance.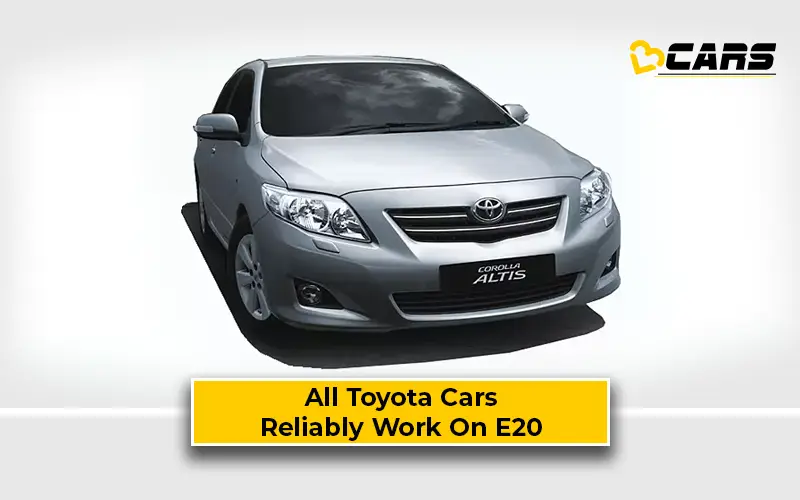 It's worth noting that ethanol attracts moisture from the air and can accelerate the corrosion in the fuel lines, injectors, engine cylinders and exhaust plumbing. So, blending even 20% ethanol makes the flex fuel affects the long-term reliability of the vehicle. To keep the vehicle's reliability intact, carmakers need to implement anti-corrosion coatings and layers.
If you use E20 in a regular petrol car, then you should expect some rusting-related issues in the powertrain components crop up during the ownership. It'll poorly affect the reliability of the vehicle and your ownership experience.
Also Read: Toyota At Auto Expo 2023 - All Cars Showcased
Maruti To Make Entire Range E20 Flex Fuel Complaint By March 2023
Note: Check your Car EMI with our - Car Loan EMI Calculator
While we didn't get a direct answer, in response to our question, Mr. Vikram Gulati, country head and SVP of Toyota said, "We test our vehicles in the roughest conditions and engineer them to operate reliably beyond our customer's expectations. Because of that initial engineering effort we have put in, you can run any of our cars from 2013 or later on E20 fuel without any problems for the rest of the vehicle life."
We're assuming that 'life' here refers to the typical 15-year initial registration period of a vehicle. Still, buying any Toyota petrol car and running it problem-free on the E20 flex fuel for up to 15 years is a remarkable achievement. And that's before they have made any accommodations to account for the 20% ethanol blend. Once they roll out their cars with the necessary modifications, we should expect even longer reliability. We have no reason to doubt Toyota's claims here since reliability and smooth ownership experience are their strengths.
Also Read: Toyota Innova Hycross Won't Get Petrol-Manual - Confirmed
Toyota Innova Hycross Petrol Variants Explained - Which One To Buy
Note: Check your car's fuel cost with Fuel Cost Calculator in India