Hyundai Announce Nationwide Smart Care Clinic
Hyundai have rolled out a customer connect program named Smart Care Clinic. It is a 10-day nationwide program that will run from December 11 to December 20, 2021. The program will offer periodic maintenance, sanitization, road-side assistance along with special year-end offers and benefits. Hyundai say the objective of the program is to sensitise the customer, reminding them to service their car for efficient performance and a cleaner drive.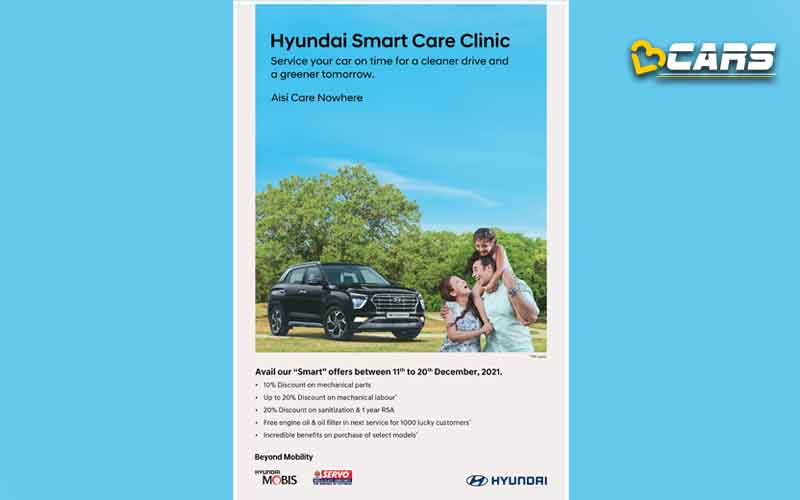 In 2021, Hyundai completed 25 years in the Indian market and rolled out ten millionth vehicle from their plant. To celebrate the end of this year, Hyundai are organising this program, which will offer customers some additional benefits on the service of their vehicle like:
10% Discount on Mechanical Parts

Up to 20% Discount on Mechanical Labor

20% Discount on Sanitization & 1 year RSA

Free engine oil & oil filter in next service for 1,000 lucky customers

Benefits on purchase of select models
Hyundai also organised this program in the year 2020 and its highlights are:
No. of customers enrolled - 2.3 lakh

Percentage of customers opting for dry wash - 20% (40,000+ customers)

Percentage of customers opting for car sanitization - 12% (28,000+ customers)

Total water saved last year - 4.8 million litres
*Hyundai claimed stats
You can visit the nearest Hyundai dealership or Hyundai's official website to book a service appointment for December 20 or earlier to enjoy the benefits.
Hyundai also recently kicked off their Beyond Mobility marketing campaign to highlight their achievements in other areas such as technology and several environment-friendly processes.
Also Read: Hyundai Kick-Off 'Beyond Mobility' Campaign To Promote Sustainability, Technology, Innovation