Hyundai Nexo fuel-cell hybrid SUV Showcased At Auto Expo 2020
Hyundai has showcased its Nexo fuel-cell hybrid SUV at the Auto Expo 2020.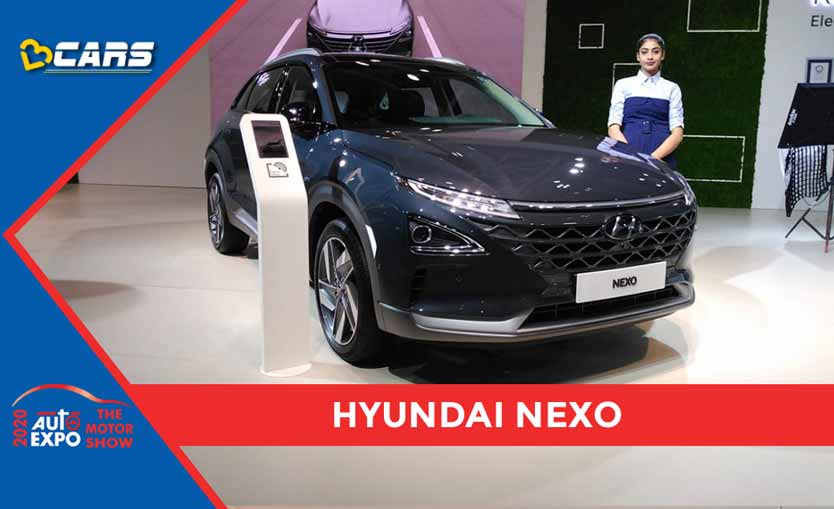 Unlike an electric car, a fuel-cell car can be fuelled and ready to hit the road again in under 5 minutes. It's as quick as refuelling regular petrol or diesel car. It has a battery pack on board but the electric motor can also derive power from the hydrogen fuel-cell. When the fuel-cell is not powering the motor, it's busy charging the on-board battery pack.
Advantages of Hyundai Nexo
Another advantage of not having too many battery cells is of lighter weight. A lighter car is more efficient at utilizing the available power from the batteries. Therefore, a lighter car can give better range per kWh of electricity than a heavier car. The only waste coming out of the pipe of a hydrogen fuel-cell car is water.
Disadvantages of Hyundai Nexo
The downside of a hydrogen car is the availability of fuel - or the lack of it, to be precise. Even in developed countries, the hydrogen fuel dispensing outlets are far and few in between. Then there's the cost - the cost of buying the car and the cost of operating the car. The Nexo retails for about US $60,000 (Rs. 43.0 lakh) and it doesn't cost any less than comparable petrol or diesel car. In fact, it costs more as hydrogen doesn't come cheap.
The Nexo fuel-cell hybrid SUV comes with three 52.2-litre hydrogen tanks, which can contain a total of 156.6 litres of fuel. The Nexo has a peak power output of 163PS and a peak torque output of 395Nm. With a full tank of hydrogen and a fully-charged battery pack, the Nexo can go for 756km as per the European test cycle.
Here are the engine specs of Hyundai Nexo fuel-cell hybrid SUV:
2020 Hyundai Nexo fuel-cell hybrid SUV Engine Specs

Battery Capacity

40kWh

Fuel Capacity

156.6 litres

Power

163PS

Torque

395Nm

Transmission

Single-speed 

Claimed Range

756km (Euro cycle)
Here are the dimensions of Hyundai Nexo fuel-cell hybrid SUV:
2020 Hyundai Nexo fuel-cell hybrid SUV Dimensions

Length

4670mm

Width

1860mm

Height

1630mm

Wheelbase

2790mm
The 2020 Hyundai Nexo fuel-cell hybrid SUV's top variant comes with the following features:
12.3-inch touchscreen infotainment system

Apple Carplay and Android Auto

Adaptive cruise control

Collision avoidance

Pedestrian detection

Wireless phone charging