Maruti Suzuki Future E Electric WagonR Spotted Testing Again.
We recently spotted Maruti Suzuki electric WagonR testing on NH8 in Gurugram/Gurgaon. The XL5 is just the rumoured name for this car and it's yet to get an official name. We believe it could be called the Future-E. This camouflaged car is based on the WagonR and could end up in the Nexa showroom.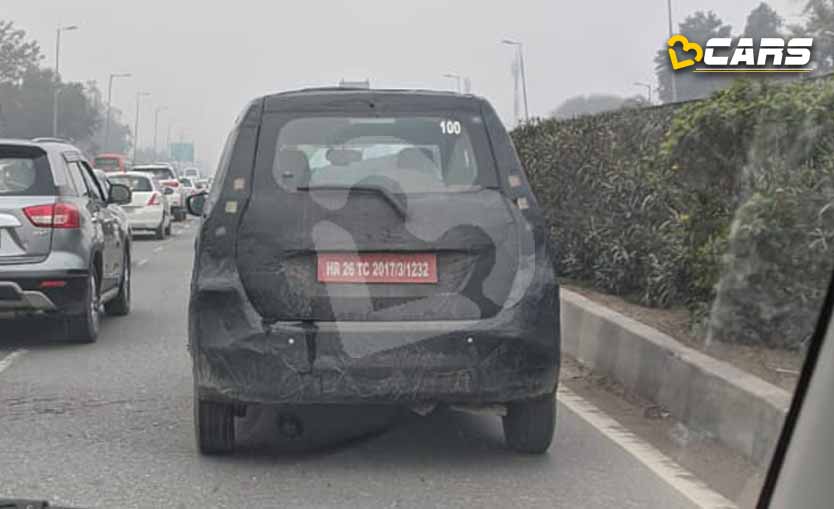 Older spy shots already confirm that it doesn't have an exhaust pipe. A recent walk-around video of the camouflaged car reveals that it has a larger 8-10-inch infotainment system. It could include all the electric car-specific features.
Besides the usual Reverse and Drive mode selectors, the gear lever seems to have B mode. This could be to engage aggressive regenerative braking. With this, you could drive with just the accelerator pedal in most situations as the car slows down rapidly once you lift off. More importantly, it helps recharge the batteries when you're not pushing the accelerator pedal.
The test car also had automatic AC and 15-inch alloy wheels from the Ignis with wider tyres. The top variant of the WagonR currently doesn't get automatic AC or alloy wheels. The tyre in the top variant is also smaller with only 165-section wide contact patch wrapped around 14-inch steel wheels.
Maruti Future-E Electric WagonR / Maruti XL5 Exterior Design
The front of the car seems to have different styling compared to the regular WagonR. The indicators are housed in slim reflectors, just like the Hyundai Venue. Meanwhile, the headlamps are lower in the bumper. This is a recent design trend that seems to be working. The Tata Harrier, Hyundai Kona, MG Hector and Renault Kwid also follow this design language and most car buyers love this new futuristic trend.
Unfortunately, the car still has flap-type door handles. Grab-type handles would've looked better on this car. The rear end of the car will have LED lights to minimize the power consumption from the battery.
Electric WagonR/Maruti Futur-E Battery Range
To keep the costs in check, the electric WagonR may not offer 300km of range like the Nexon. However, it could come with a 200km of claimed driving range with a full charge. That could result in about 150km of real-world city driving range. It should still suffice for most car owners as everyday driving rarely exceeds 100km.
Maruti Futur-E Electric WagonR Charging Points
Maruti Suzuki is likely to leverage its wide sales and service network to facilitate charging for their electric car customers. Maruti Suzuki could install at least one charging point at all of its sales and service outlets for its electric car owners. This way, the car owners can stop worrying about range anxiety and scarce charging infrastructure. This is where Maruti's massive sales and service network can help it kill the range anxiety and limited charging station issues practically overnight. Hence, the XL5 may not need too much driving range.
To encourage and speed up the adoption of electric cars, Maruti Suzuki may keep charging at its official touchpoints free for the first year or so. But, to keep the traffic of freeloaders in check, Maruti may start charging a fee after the first year.
Maruti Suzuki FuturE Electric WagonR / XL5 Ex-Showroom Price
The top variant of the Maruti WagonR already costs about Rs. 6.5 lakh (on-road). The extra features alone will push the perceived value of the car above Rs. 7.0 lakh. Maruti Suzuki can further add a premium of about Rs. 1.0 lakh for the electric powertrain and the battery.
Then there's the positioning. Maruti Suzuki is likely to limit its access to the Nexa dealerships, which offer a luxurious sales and service experience and attract affluent buyers. Some buyers might find it worth at least another Rs. 10 - 20,000. Meanwhile, the distinct and modern design could be considered worth another Rs. 20 - 30,000. So, expect the electric WagonR to cost around Rs. 8.5 - 9.0 lakh (on-road). But, in the long run, you might be able to recover some of that extra money spent. That's because electric cars require negligible maintenance and their running cost comes to about Rs. 1.0/km worth of electricity. Meanwhile, driving a kilometre in a petrol-powered small city car costs anywhere between Rs. 4.0 - 5.0 in fuel alone.
Maruti Suzuki Future E Electric Car Launch Date
In usual Maruti Suzuki fashion, the Futur E car will be first showcased the car at the Auto Expo 2020. As per the official Maruti Suzuki launch timeline, the electric car is expected to go on sale early in 2021.