New MG Electric SUV With Sub Rs. 15.0 Lakh Pricing To Arrive By March 2023 | V3Cars
MG Motor announced last year that they will launch an electric SUV in India priced between Rs. 10.0 lakh to Rs. 15.0 lakh. MG aim to launch this electric SUV in India by the end of financial year 2023. So we can hope to see it on our roads before March 2023. The new EV will use the global MG platform with modifications for the Indian market.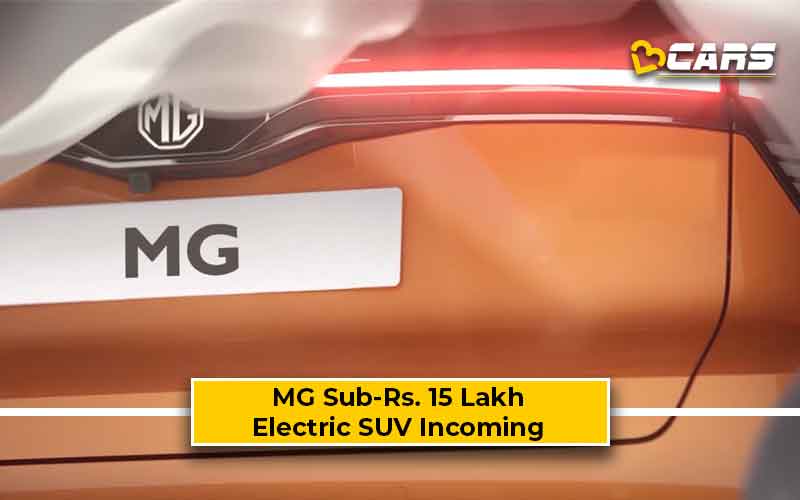 Earlier this year, MG shared a teaser video of another electric crossover tailored for the UK market's needs. The EV coming to India next year could borrow some design elements from it. MG could also use a modified version of its platform for the Indian EV.
Also Read: MG All-electric Crossover Teased - To Be Unveiled In 2022 Q4
The new model will have a crossover design and it will launch as a mass segment product in many countries including India. MG will customise the Indian model for range, regulations and Indian taste. MG say that it will be "specially tailored for India". They say that they have commenced working on it and are expecting good volumes from this EV.
To avail benefits from the PLI (production linked incentive) scheme, MG will heavily focus on the localisation of the new EV. MG Motor will localise a lot of parts for its next EV. These would include battery assembly, motors and localisation of other parts. The battery and motor setup for the new EV is not known yet. But we can expect it to have a smaller and less powerful version of the 44.5kWh battery used in the pre-facelift ZS EV with a claimed range of around 300km.
Check your Car EMI with - Car Loan EMI Calculator
The Rs. 10.0 lakh to Rs. 20.0 lakh price bracket has EVs that include the Nexon EV, Nexon EV Max and Tigor EV. The upcoming Altroz EV, Citroen C3 EV and XUV400 electric will also fall in the same price range. However, the eXUV400 will be slightly bigger than the MG's crossover and will measure 4.2 metres in length. On the other hand, we expect Tata to discontinue the standard Nexon EV soon as the Nexon EV Max offers a better value proposition with a longer range. It will, as a result, drive most of the standard Nexon EV's sales towards the Nexon EV Max. The Nexon EV Max costs slightly more than the expected price of the MG's electric SUV.
Calculate your fuel cost with our - Fuel Cost Calculator in India
Hence, the upcoming MG's e-SUV will likely have no direct competition upon launch except for the upcoming Citroen C3 electric. In the EV sector in India, MG recently launched the 2022 ZS EV, which is available in two variants, priced at Rs. 21.99 lakh and Rs. 25.88 lakh (ex-showroom).
Also Read: Top EVs In India With Over 400km Range