New Toyota Yaris Cross Compact SUV Unveiled Globally
Toyota has unveiled the 2021 Yaris Cross for the Japanese and European markets. It may come to India to rival the Kia Seltos, Hyundai Creta, Nissan Kicks and the likes, but there's no word about whether it'll launch here or not. Considering the current industry outlook, it looks unlikely that there are any plans to bring to India as the production of the Yaris Cross is set to commence in Japan and France.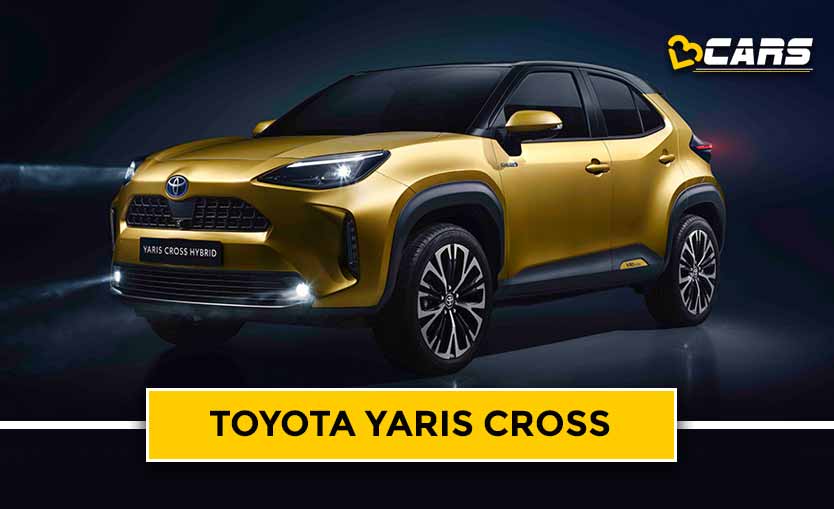 Toyota wanted to showcase the Yaris Cross at the Geneva Motor Show, which couldn't happen because of the Coronavirus pandemic.
The Yaris measures 4180mm long, 1765mm wide and 1560mm tall and it has a wheelbase of 2560mm. It'll come with a 1.5-litre 3-cylinder petrol engine with and without a hybrid system. The Indian Yaris sedan gets a different 1.5-litre 4-cylinder engine. The SUV's normal engine will get a 6-speed manual and a CVT automatic transmission. The hybrid version will get a CVT automatic and a part-time all-wheel drivetrain. The powertrain will drive the front wheels with the internal combustion engine while the electric motor will drive the rear wheels when necessary. The hybrid powertrain will also have an aggressive regenerative braking option on the gear lever to rapidly slow down the car during deceleration. This mode will allow the car to capture the energy for the batteries and will cut down the need to use the brakes most of the time.
The features of the car include adaptive cruise control, 7-inch full-colour MID in the instrument console, single-zone climate control, keyless entry with push-button start/stop and an 8-inch touchscreen with smartphone connectivity.
For the Indian SUV buyers, Toyota has plans to bring a rebadged Brezza as part of the partnership with Maruti Suzuki. Toyota is also investing in the Yaris brand here as they're considering bringing a cheaper variant possibly with a CNG engine option for the fleet operators. It could fill the void left by the now discontinued Etios sedan.

ABOUT THE AUTHOR

Mahesh is a fan of compact, quirky and underrated vehicles that punch above their weight. Multix, Nano, Strom R3 and Navi are his favorites.
Previous
Next