Tata Cars at Auto Expo 2020 – Tata Showcased 11 Cars at Auto Expo
At the Auto Expo 2020, Tata has used up its pavilion space very well with a bunch cars, including current models, concepts and future products. There are multiple showstoppers like the Sierra Concept and HBX concept.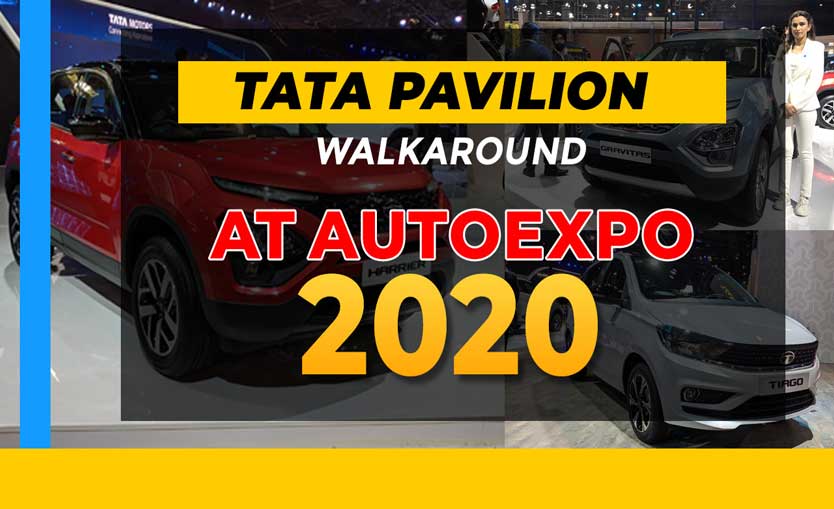 Tata Cars at Auto Expo 2020
Tata Sierra Concept Electric SUV
The Sierra Concept pays tribute to the legendary Sierra, which launched about 2 decades ago. The concept builds upon its curved rear roofs and takes it too far, as in from one side to the other. This is an electric car concept and it could go on sale in the next 2-3 years with an expected price of Rs. 30.0 lakh.
Tata HBX Concept
The HBX concept is a small SUV, similar in size to the Maruti Suzuki Ignis. While the concept looks butch, expect some toning down by the time it reaches the showroom. Since it is taking shape as an SUV right from the start, it's certainly going to look more aggressive than the Ignis and the Mahindra KUV100. An SUV style at a price point comparable with a premium hatchback is sure to grab your attention. We expect it to launch in a year's time with a starting price tag of Rs. 5.5 lakh. It rivals the Maruti Suzuki Ignis and Mahindra KUV100 in the up and coming mini-SUV segment.
Tata Gravitas
Gravitas is the 3-row version of the Harrier mid-size SUV. It is expected to get the more powerful version of the 2.0-litre diesel engine, which is available with the recently-launched Harrier automatic. This engine makes 170PS of power and 350Nm of torque. It'll come with a 6-speed manual and a 6-speed torque covnverter automatic transmission. The automatic transmission option may not be available from day one. The Gravitas will go on sale around mid-2020. It's expected to carry a starting price tag of around Rs. 15.0 lakh.
Tata Hexa Safari
The Tata Hexa Safari edition is a special edition of the Hexa. It'll launch late in 2020. It gets mostly cosmetic updates over the regular Hexa 4-wheel drive.
Tata Harrier AT
The Tata Harrier now has BS6 engines and the option of an automatic transmission. The 2020 Harrier with a manual transmission is priced between Rs. 13.70 lakh and Rs. 18.95 lakh. The automatic transmission is available in XMA, XZA, and XZA Plus variants in addition to the dark and dual-tone versions of the top two trims. Harrier automatic is priced between Rs. 16.25 lakh and Rs. 20.25 lakh. The automatic variants also get the more powerful version of the engine and deliver 170PS of power and 350Nm of torque.
The higher price tags at the top end are because of the addition of a new top variant called XZ+.
See Video - Tata Harrier AT Price and WalkAround Video 
Tata Nexon
The refreshed Nexon facelift with BS6 engines is also present at the auto show. It's priced between Rs. 6.95 lakh and Rs. 12.7 lakh. The new Nexon petrol engine is 10pS more powerful as it now revs up to 5500rpm. It gets electrically-adjustable driver seat and an electric sunroof and cruise control among other additions.
Tata Nexon EV
The Tata Nexon electric SUV is priced between Rs. 14.0 and 16.0 lakh (ex-showroom). It gets features like an electric sunroof and a 7-inch full-colour instrument console. It can go for 312km on a full charge as per ARAI tests.
Tata Altroz
Tata has the Altroz at the Auto Expo 2020 with crash-test dummies and 5-star stickering to highlight its full score at the Global NCAP crash tests. The Altroz is currently priced between Rs. 5.29 lakh and Rs. 9.34 lakh.
Tata Altroz EV
The Altroz electric car is also present at the Auto Expo 2020 but it doesn't have a spec-sheet declaring its credentials. It looks like it may have the same powertrain as the Nexon EVs but a smaller battery pack. A range of 300km is expected from the Altroz as it keeps the range anxiety at bay for the majority of its potential users. It could have a sub-Rs. 10 lakh price tag if it goes on sale as the battery prices are expected to fall further with the increase in production. It could go on sale in the next 1-2 years depending on how well the Nexon electric does on the sales charts.
Tata Tigor
The recently-launched 2020 Tigor BS6 petrol is preset at the auto show. The new Tigor borrows styling cues from the more expensive Altroz but misses out on some lavish features and a diesel engine. The 2020 Tigor is currently priced between Rs. 5.75 lakh and Rs. 7.49 lakh.
Tata Tiago
The new Tiago is also present at the Auto Expo 2020. It too now wears Tata's Impact 2.0 design face. It gets a few new features like automatic AC and its price tag ranges from Rs. 4.6 lakh to Rs. 6.6 lakh.

ABOUT THE AUTHOR

Mahesh is a fan of compact, quirky and underrated vehicles that punch above their weight. Multix, Nano, Strom R3 and Navi are his favorites.
Previous
Next
---
Related Car News