Toyota Partner With Indian Sugar Mills Association To Promote Flex Fuel Adoption | V3Cars
Toyota Kirloskar Motor have signed a Memorandum of Understanding (MoU) with the Indian Sugar Mills Association (ISMA) to raise awareness and encourage the use of ethanol as a sustainable biofuel in India. The MoU was signed in the presence of Hon'ble Chief Minister of Uttar Pradesh Shri. Yogi Adityanath, along with other government officials and dignitaries. The event commemorates the 120th anniversary of establishing the first sugar mill in the state of Uttar Pradesh. Mr. Sudeep S. Dalvi, Senior Vice President & Chief Communication Officer of Toyota, was present at the event. Additionally, Toyota showcased its Flex-Fuel Strong Hybrid Electric Vehicle and offered test drives.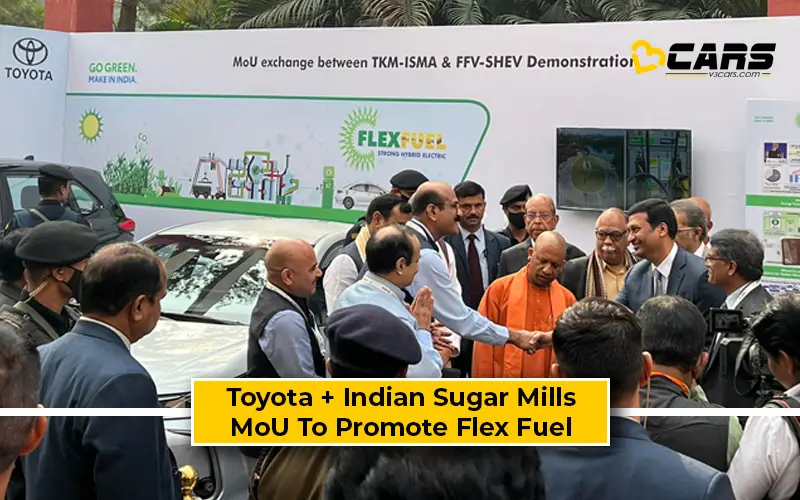 The Indian Sugar Mills Association (ISMA) serve as a crucial link between the sugar industry and the Indian government, playing a vital role in the production of ethanol and facilitating the availability of ethanol fuel in the country. By signing the MoU, TKM and ISMA aim to expedite the adoption of ethanol as a clean, indigenous alternative fuel, contributing to the national objective of reducing dependence on fossil fuels and lowering carbon footprints.
Note: Check your car's fuel cost with Fuel Cost Calculator in India
As an agriculturally based, domestically produced fuel source, increased use of ethanol will boost farmer incomes and generate new employment opportunities, leading to the growth of the agrarian economy while reducing fossil fuel imports. The government has also recently launched second-generation technologies that produce ethanol from agricultural residues such as straw, which is currently burned.
Also Read : Toyota To Commence Innova Crysta Diesel Deliveries In March
The Indian government actively encourages the use of ethanol as a biofuel and set an ambitious target of achieving 20% ethanol blending in gasoline by 2025. By 2025-2026, it is estimated that 86 million barrels of gasoline will be replaced by 20% ethanol, saving the country Rs. 30,000 crore in foreign exchange and reducing carbon emissions by 10 million tonnes. These benefits can be further amplified with the advent of Flexi Fuel Vehicle technologies, which can flexibly use higher ethanol blends ranging from 20% to 85%, given the enormous potential for ethanol production that exists beyond E20 blends.
According to Mr. Sudeep S. Dalvi, Senior Vice President & Chief Communication Officer of Toyota Kirloskar Motor, "In our constant endeavor to promote the adoption of sustainable mobility solutions across regions, we at Toyota believe that it is crucial to amplify in-depth understanding about ways and means to combat carbon emissions, beyond providing technologically advanced solutions, while achieving goals of Carbon Neutrality.
Today, we are proud to collaborate with ISMA to popularize the use of ethanol being a clean and sustainable biofuel source, for the automotive industry in India. TKM is continuously studying various advanced powertrains that promote green technologies as well as energy self-reliance. The Flexi-fuel Strong Hybrid Electric Vehicle being an electrified technology combines the best of both the worlds - electrified as well as alternate fuel ethanol pathways. To elaborate, the electrified flexi fuel vehicle has both the flexi-fuel engine and electric powertrain, thereby will enable the demand creation for alternate fuel & electric vehicle parts manufacturing ecosystem. The FFV-SHEV technology enables better fuel efficiency with faster reduction of fossil fuel consumption & CO2 emissions."
Note: Check your Car EMI with our - Car Loan EMI Calculator
Mr. Aditya Jhunjhunwala, President of Indian Sugar Mills Association, shared his thoughts on the MoU exchange, saying "ISMA is delighted to collaborate with Toyota Kirloskar Motor Pvt. Ltd. on this significant initiative. We look forward to working together to enhance the Ethanol awareness and encourage its wider adoption as a fuel in India. Ethanol is a vital part of India's energy mix, and with this joint effort, we are hopeful to contribute better to the larger goal of achieving self-reliance in energy. This will go a long way in contributing to a cleaner, greener environment."
Also Read: Toyota Budget Reaction - Detailed Insights