Toyota Budget Reaction - Detailed Insights | V3Cars
In this article, we'll present Toyota's reaction to the 2023 budget. Based on the announcements from the finance minister and the statement from the carmaker, we'll try to understand how the 2023 budget impacts Toyota in the short and long term.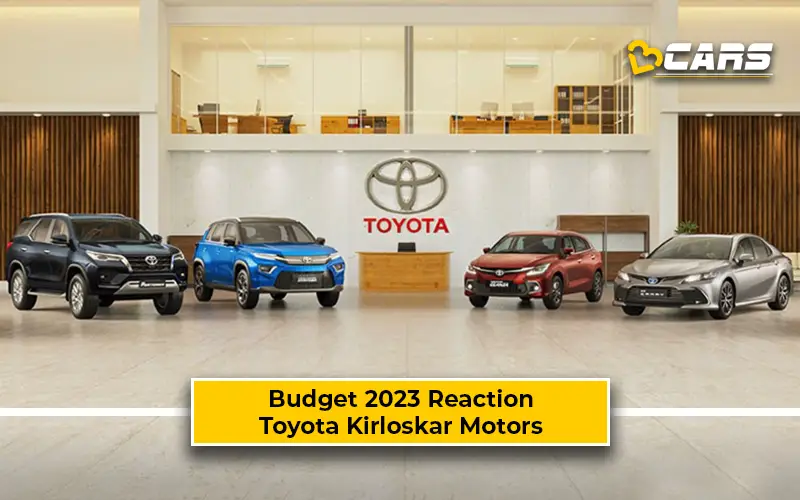 Here's what Mr. Vikram Gulati, EVP, Toyota Kirloskar said about the Budget 2023:
"The Hon'ble Finance Minister Smt. Nirmala Sitharaman has presented an exceptional budget by balancing the need for sustaining rapid growth, while maintaining an eye on fiscal prudence. Given the fact that there is an outlay of Rs. 10 trillion towards Capex which represents 3.3% of the GDP, and a 33% Y-o-Y increase, this will definitely contribute to a robust economic growth. While doing so, the Government has aimed at a fiscal deficit target of 5.9% for the upcoming year with a clear glide path to bring the fiscal deficit below 4.5 per cent of GDP by 2025-26.
The Budget which not only focuses on inclusiveness, youth empowerment and skill development, but also aims to give impetus to "Green Growth" with sufficient outlays for supporting the recently announced National Green Hydrogen Mission, doubling of allocation for FAME 2 scheme and for providing viability gap funding for Battery Energy Storage System (BESS). The support for 500 new "WASTE to WEALTH" plants under the GOBARdhan scheme towards leveraging compressed biogas will also encourage a Green and circular economy.
Further, the announcement towards fund allocation for scrapping old vehicles of Central and State Governments will not only help the environment and reduce fossil fuel consumption, but will also generate demand for new vehicles.
Priorities of this year's budget clearly resonate with the Government's vision for overall development of our country in an inclusive, environmentally responsible manner towards a technology driven and knowledge based economy. The added reforms announced towards the ease of doing business, as well as simplifying the direct tax administration, as well as introducing new tax slabs, are bound to lead to greater disposable income, which will generate demand and are supportive for the growth of the economy."
Also Read: Full Budget 2023 Recap For Auto Sector (Cars, Electric Vehicles)
V3Cars Insights - Biogas
While Toyota aren't working on bio-CNG, their close partnership with Maruti Suzuki makes them just as relevant to this discussion as Maruti themselves. Since Maruti Suzuki are actively working on Bio-CNG vehicles, the finance minister's announcement of including the biogas under GST is a positive development for Toyota as well. The government's assistance to add 500 biogas plants in India will help accelerate the production, distribution and adoption of bio-CNG in India.
Suzuki Sign MoU With NDDB, Banas Dairy To Explore Bio CNG As Fuel
National Green Hydrogen Mission
The finance minister allocated a healthy budget of Rs. 19,700 crore towards green hydrogen production. Toyota welcomed the government's target of achieving 500 crore kg of green hydrogen will help with adoption of hydrogen as an alternative fuel in India. Toyota already have a hydrogen fuel cell vehicle (FCV) in their portfolio. At the 2023 Auto Expo, they also showcased the Corolla Cross hydrogen combustion engine (HCE) vehicle.
Moreover, Maruti Suzuki are also working on hydrogen CNG vehicles. Since Toyota also have some CNG vehicles in their portfolio, we can expect the H-CNG technology to spill into Toyota's CNG cars.
Also Read: Pros And Cons Of Hydrogen Fuel Cell Vehicles
Maruti Suzuki Working On Hydrogen CNG (H-CNG) Engines
Tata Motors Hydrogen FCV, HCE Launch Plan In India - Opinion
Battery Production, Storage System
The 2023 budget aids companies involved in local battery manufacturing to achieve 400MWh of battery production for higher storage capacity. The government also announced that they will exempt machinery from customs duty for production of lithium batteries. Toyota acknowledged this decision although they don't have an EV in their short term pipeline.
Suzuki are setting up a battery and EV production plant in India and are likely to benefit from the budget allocation. Once again, Toyota will also benefit from this move given their close-knit relationship with Maruti Suzuki in India.
Toyota BZ4X Electric SUV Launching In India Or Not?
Toyota - Localisation Is Key To Alt Fuel Strategy In India
Pros And Cons Of Electric Vehicles
Vehicle Replacement - First Mover Advantage
The carmaker also welcomed the scrappage policy. In the 2023 Budget, the finance minister didn't add any sections to speed up the scrapping process, which could help spur demand. So far, the 10-year life rule for diesel cars and 15-year life for petrol cars have helped all car manufacturers with higher demand. The budget only addressed the scrapping of government vehicles. Since Toyota also supply a good number of vehicles such as Innova and Fortuner to government-run departments, we can expect to see some demand coming from this announcement.
Toyota will also benefit from the first mover advantage in the vehicle scrapping business. Maruti Suzuki and Toyota were the first to start operations at their vehicle scrapping facility in Noida, UP.
Also Read: Maruti Suzuki Toyotsu Start Operations At India
Lower Income Tax = Higher Demand
Toyota also welcomed the changes to the income tax slabs. Although the newer tax slabs aim to reduce the burden on the salaried class, they also do away with deductions and do not encourage investing in ELSS mutual funds, buying health insurance and life insurance. This hinders the nation's growth from the salaried class. However, it's worth noting that currently, the older tax structure is also available to those who want to avail deductions in income tax.
The newer, simplified tax structure will also simplify the filing process but with no room for deductions, it's likely to help the government with higher tax collections. Toyota hope to achieve higher sales because of the increase in disposable income with the newer tax slabs.
Missing In Reaction - Ethanol (Flex Fuel)
The budget also proposes to exempt customs duty on ethanol. This will benefit flex fuel cars. Toyota and Maruti Suzuki are actively working on their flex fuel cars, which can even run on ethanol-rich fuels with 85% ethanol content. It is strange that Toyota missed highlighting this point in their reaction to the budget.
Toyota: All Our Petrol Cars Can Reliably Run On E20 Flex Fuel
Expected Price Increase For Flex Fuel Cars With E20, E100 Ethanol Blend