Volkswagen Will Hike Car Prices By 2 - 5% From Jan 1
Volkswagen are the next on the list of car manufacturers increasing prices of their cars from January 1, 2022. All VW models but the 2022 Tiguan facelift will get new price tags which are up to 5% higher than the current prices. Understandably, just like the other carmakers, Volkswagen are also blaming the higher input costs for this price hike.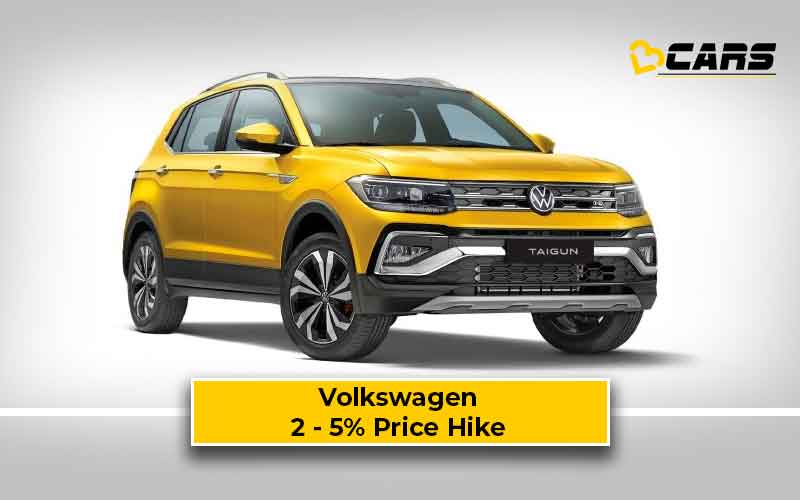 The German carmaker currently sell the Polo, Vento, Taigun and Tiguan. The newly-launched Tiguan is safe from the price hike for now and Volkswagen will begin its deliveries from mid-January. Given the rate of increase is between 2 - 5%, we can expect their car prices to go up by Rs. 13,000 to Rs. 87,000.
Many car makers like Maruti, Citroen and Audi have already announced their price hike for January 2022. The major reason for the ongoing price hikes is the global pandemic, which affected the supply chain of raw materials required for car manufacturing. The prices of these raw materials have seen a constant rise in the past year.
Moreover, the semiconductor shortage also affected vehicle production and it also added to the increasing input costs. It is delaying the supply of vehicles to dealers against the oncoming demand. The high demand and low supply situation often result in price hikes. We can expect even more carmakers to increase the prices of their vehicles.
Volkswagen have launched two SUVs in India this year. One of them is the Taigun, which is based on the MQB A0IN platform. The other is the facelift of Tiguan. Volkswagen are also likely to launch a new C-segment sedan, which might replace the Vento. It will use the same platform, engine and transmission combination as the upcoming Skoda Slavia.