Tata Motors To Hike Prices From July 17; Price Protection For Bookings Made Till July 16 | V3Cars
Tata Motors recently announced that they are going to increase the prices of their passenger cars by an average of 0.6% with effect from July 17, 2023. However, they also claim to offer price protection to buyers who book the car before the price revision. Thus, buyers who book a Tata car before July 17 will get to buy it at the current prices instead of having to pay the higher, revised price.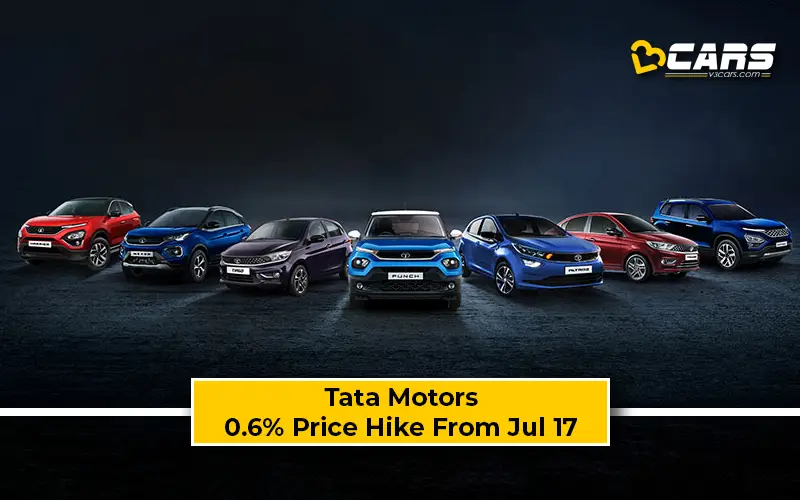 The exact price increase will vary from each model-variant-powertrain combination. While some might get a price hike higher than 0.6%, some may get lower. Tata Motors' portfolio in the passenger car segment currently consists of the following cars:
Tiago
Tigor
Altroz
Punch
Nexon
Harrier
Safari
Tiago EV
Tigor EV
Nexon EV Prime
Nexon EV Max
Xpres-T (Commercial version of Tigor EV)
The most recent product update in Tata's portfolio included the addition of Altroz CNG. Despite having a factory-fit CNG kit, the Altroz CNG offers a usable 210 litres of boot space. Thus, it's the most spacious CNG hatchback in India in terms of cargo volume. Its impact was seen even among competitors as Maruti Suzuki quickly dropped the price gap between petrol and CNG variants of their hatchbacks from Rs. 95,000 to Rs. 90,000.
Also Read: Maruti CNG Cars Now Cost Only 90k More; Is Tata Punch CNG The Reason?
Note: Instantly Sell Your Old Car With V3Cars Sell Used Car Platform
Their next car in the portfolio is likely to be the Altroz Racer or the Punch CNG. The Punch is also likely to get an electric powertrain option by late 2023 or sometime in the first half of 2024. Among major overhauls, Tata have the next-generation Nexon 2023 and mid-life updates for the Harrier and Safari lines up for the current year.
Also Read: Tata Motors To Increase Prices Of Their Range From May 1, 2023
Is Tata Nexon 2023 A Facelift Or A New Generation Car? Detailed Analysis
Note: Now Find Out The Fuel Price In India Using V3Cars