Toyota - Our Alternate Fuel Strategies Rely On Localisation | V3Cars
While speaking with V3Cars, Toyota's VP of sales and marketing told us that their alternate fuel strategies for India rely heavily on localisation. Since the Toyota-Suzuki tie up relies on Suzuki's capabilities of achieving scale in India, we should assume that even Maruti Suzuki's alternate fuels technologies have a strong probability of ending up in Toyota cars.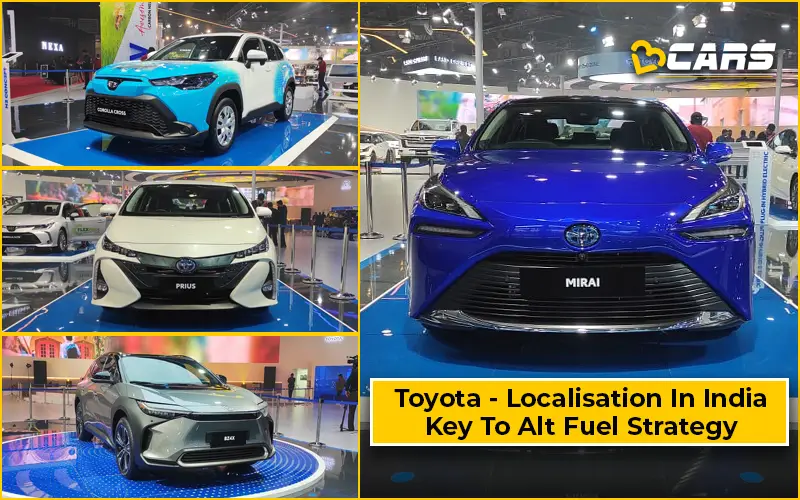 Also Read: Toyota BZ4X Electric SUV Launching In India Or Not?
All Toyota Cars Showcased At Auto Expo - FFV, HCE, H-FCV, EV
Note: Check your Car EMI with our - Car Loan EMI Calculator
With the knowledge that Toyota want to bring localised cars to the mass-market segments in India, we can also expect Toyota to skip the BZ4X. We should instead look forward to something coming out of their collaborative engineering efforts with Maruti Suzuki on the eVX concept.
Besides a regular petrol, mild hybrid petrol, turbo diesel and CNG engines, Maruti Suzuki and Toyota are exploring following alternate fuel options for India, including:
Bio CNG
Hydrogen CNG
Strong hybrid petrol
Electric vehicles
Flex fuel
Hydrogen fuel cell vehicles
Hydrogen combustion engines
Also Read: Maruti Suzuki Working On Hydrogen CNG (H-CNG) Engines
Suzuki Sign MoU With NDDB, Banas Dairy To Explore Bio CNG As Fuel
Such a diversification is not only suitable for a holistic approach towards their net-zero carbon emission goal but also healthy for their business. While all automakers around the globe are scrambling to mark their presence in the EV space, Toyota are taking a calculated bet of diversifying their propulsion options.
The future is uncertain and it's possible that EVs may not be the default choice 15 to 20 years from now. So, this approach helps them manage the transition to clean fuels and increase their investment towards whichever alternative fuel starts to show long-term promise.
Note: Check your car's fuel cost with Fuel Cost Calculator in India