MG Owner Gets Up To 101% Resale Value On Exchange With ZS EV
Many customers are now shifting from petrol and diesel vehicles to EVs. They are exchanging their liquid fuel MG cars for a new EV. Some customers are getting an unbelievable resale value ranging between 80% to 100% on their old ICE vehicles. These resale valuations are apparently in line with what MG claimed when they launched the brand and the Hector in India. The British carmaker were confident that their SUVs will hold their value much better than any other rival brand's cars. MG have shared the details of some of the exchanges that customers made and got an exciting value on their car.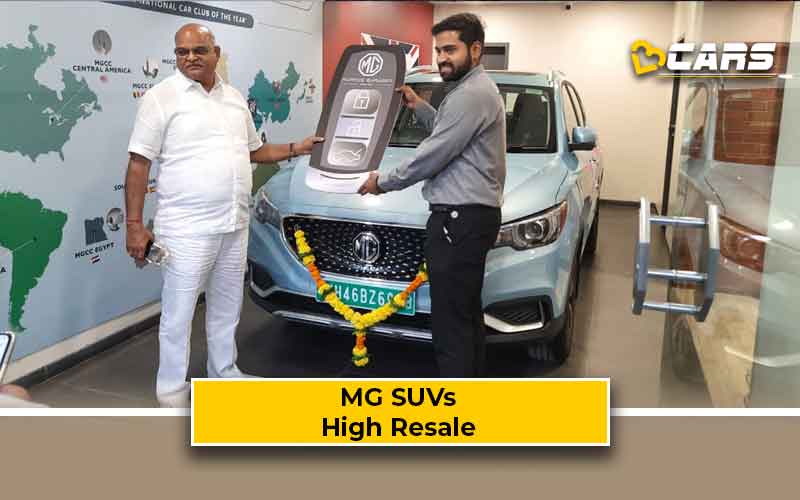 101% Resale Value on Hector Smart Diesel
Mr. Nitin Agarwal exchanged his Hector Smart diesel for a new ZS EV. He got a resale amount of Rs. 16.5 lakh on his Hector, which was 101% of its ex-showroom cost when he bought it. He had to pay an effective amount of Rs. 7.95 lakh after the exchange to bring home the new ZS EV.
83% Resale Value on Hector 2019
When Mr. Deepak Singh exchanged his 2019 Hector for a new ZS EV, he got a resale value of Rs. 14.0 lakh on it. In 2019, he bought the Hector for an ex-showroom cost of Rs. 16.78 lakh. Thus, the exchange value translates to 83% after a usage of 29 months.
Exchange of non-MG cars
Other than MG cars, owners of cars like Jeep are also exchanging their cars for the MG ZS EV. For example, Mrs. Seema Rawal got an exchange value of Rs. 9.5 lakh on her 2018 Jeep model.
Rise in EV sales in India
Sales of EVs are seeing a sharp increase and MG's presence in this space is allowing them to meet the demand with their long-range ZS electric SUV. According to MG, they're getting an average of about 700 bookings for the ZS EV per month.
People now tend to prefer EVs as they have less running costs. We have seen fuel prices rising to their forever highs last year. This less running cost attracts customers looking for an economical way of transportation. EVs are also refined as they do not have the noise and vibration of an engine.
Government is also pushing EVs in India by providing us with various benefits. Many state governments have no registration fees for EVs. Some states charge less registration fees on EVs than petrol and diesel cars. Government also introduced a new scrappage policy. They are doing all this to promote EVs in India.
MG ZS EV
MG launched the ZS EV in India in 2020. It comes with a 44.5kWh battery with a claimed range of 419km. It has a single motor setup that produces 143PS of power and 350Nm of torque. It can perform a 0 to 100 kmph run in a claimed 8.5 seconds. The ZS EV comes in two variants; Excite and Exclusive. Prices for the ZS EV start from Rs. 21.5 lakh (ex-showroom). It rivals the Hyundai Kona EV. Tata Nexon EV comes at a relatively less cost but it also has a smaller battery, less range, slightly lower performance figures, a smaller size and fewer features.