Tata Motors Working On E85 Flex Fuel Vehicles (FFV) | V3Cars
While speaking with the media at the Auto Expo, Mr. Mohan Savarkar, VP of Tata Motors' passenger vehicle division, confirmed that they are executing the plans to make their vehicles E20 flex fuel compliant. But they aren't stopping there and are working towards achieving up to E85 flex fuel compatibility.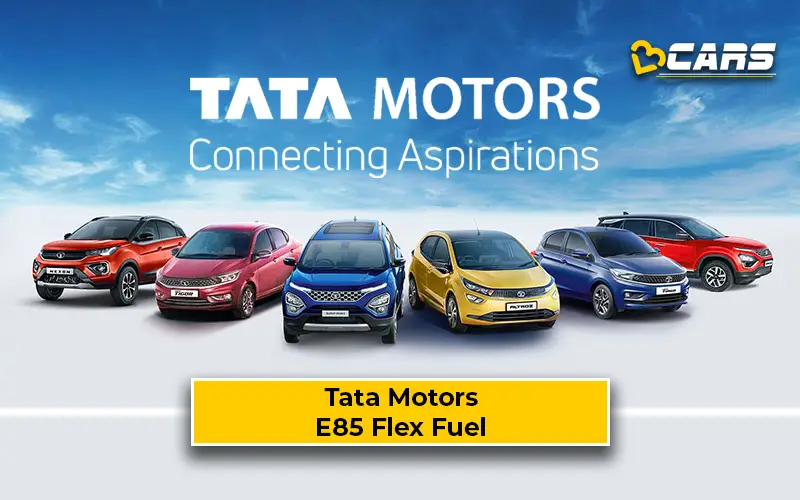 It's worth noting that the government will only begin dispensing E20 flex fuel (petrol with 20% ethanol blend) at all petrol stations sometime in 2025-2026. The current concentration of ethanol in our petrol stands at 10%.
Switching from E10 to E20 will help us cut down our crude oil imports, preserve our foreign currency reserves and strengthen us economically. Since we're already more than a couple of years away from achieving general availability of E20 fuel, speaking of E85 seems like a far-fetched reality.
Also Read: Maruti Suzuki Wagon-R Flex Fuel Prototype Showcased
Maruti Suzuki, Toyota, And Hyundai Likely To Launch Flex-fuel Cars Soon
Note: Check your Car EMI with our - Car Loan EMI Calculator
Still, carmakers like Toyota and Maruti Suzuki are working towards making their engines compatible with up to 85% ethanol blend. At a press conference, Mr. Nitin Gadkari, minister of road transport and highways had confirmed that Hyundai are also working on E85 engines. After following in Maruti and Hyundai's footsteps and starting to offer CNG in some cars, Tata Motors are also looking to offer healthy competition to Maruti Suzuki with flex fuel cars.
It's unclear if or when the government will bring the E85 flex fuel to the market. However, 4 major carmakers devoting their engineering resources towards achieving E85 compliance suggests that the government may bring it to petrol outlets at least as an optional fuel.
Meanwhile, Maruti Suzuki have already announced that they will make their entire fleet E20 compliant by the end of March 2023. This way, once the E20 flex fuel replaces the standard petrol fuel in 2025-26, customers buying their cars after March 2023 will enjoy a peace of mind in terms of long-term reliability of their cars with E20 fuel.
On the reliability front, Toyota have already confirmed to us that even their cars launched 10 years ago can reliably run on E20 fuel for their life.
Also Read: Toyota Corolla Altis Flex Fuel Hybrid Showcased
Toyota: All Our Petrol Cars Can Reliably Run On E20 Flex Fuel
Note: Check your car's fuel cost with Fuel Cost Calculator in India