March 2022 - Mahindra XUV300 Petrol Variants Explained - Which One To Buy?
In this variant explained article, you'll find out which variant of the Mahindra XUV300 petrol you should buy based on the ex-showroom prices, variant-wise features and value for money. Here we compare and objectively analyse the 2022 XUV300's petrol variants and the features to figure out which variant is worth buying for a good value for money and ownership experience. Then we will compare the engine specs, dimensions and mileage of the Mahindra XUV300 with its competitors and other petrol-powered B2-segment SUVs like Maruti Suzuki Vitara Brezza, Tata Nexon, Honda WR-V, Hyundai Venue, Kia Sonet, Nissan Magnite and Renault Kiger.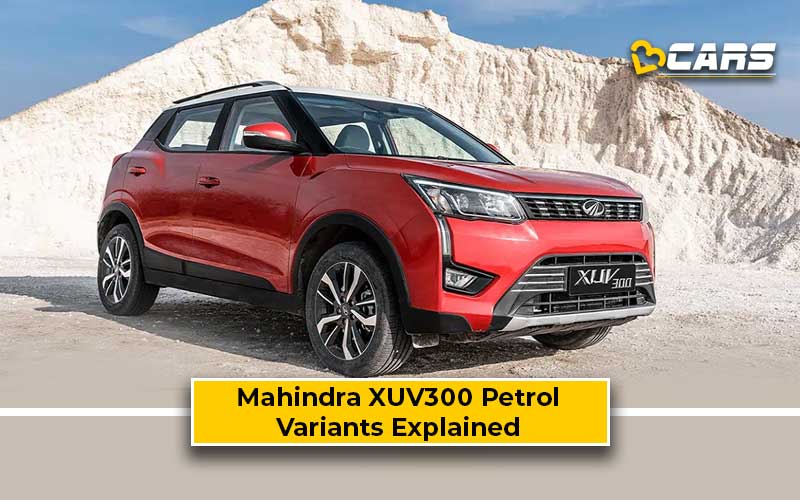 Updated (Mar 24, 2022): This update of the Mahindra XUV300 petrol variants explained article includes the latest prices of the Mahindra XUV300 along with the engine, dimension comparison of its rivals. It also includes the feature changes in some variants of the XUV300.
Also Read: Tata Nexon Petrol Variants Explained - Which One To Buy?
What Are The Pros And Cons Of Mahindra XUV300 Petrol?
The pros or advantages of Mahindra XUV300 petrol are:
5-star GNCAP safety rating
Best-in-class wheelbase of 2600mm with the widest body are the ingredients of a roomy cabin
Best-in-class torque output, although the Kiger and Magnite turbo offer a better torque-to-weight ratio
Notable features like front parking sensors, rear disc brakes, 2-zone auto AC, tyre position display, sunroof, 6 airbags, projector headlamps, steering feel adjustment, TPMS, cruise control and keyless entry
The Mahindra XUV300 petrol has the following shortcomings or problems:
Silently removed features after launch like knee airbag, rear fog lamps, door warning lights, boot lamp, 3-point seatbelt for centre rear seat, seatbelt warning for rear seats, 17-inch alloys, heated outside mirrors; these were available at the time of launch
Besides feature deletion, shuffling features between variants and moving some to higher variants also add to the confusion for potential customers
Lowest-in-segment ground clearance of 180mm and smallest-in-segment boot space measuring 257 litres
What Is The Price Of Mahindra XUV300 Petrol Variants?
The 2022 Mahindra XUV300 petrol is available in 4 variants with a manual transmission. The petrol-manual range costs between Rs. 8.16 lakh and Rs. 12.03 lakh. The petrol-automatic powertrain is available in 2 of the 4 variants. These carry ex-showroom prices of Rs. 10.20 lakh and Rs. 12.69 lakh for the W6 and W8 (O) variants, respectively. The W6 petrol-automatic is Rs. 20,501 more expensive than the W6 petrol-manual. Meanwhile, the W8 (O) petrol-automatic is Rs. 66,153 pricier than the W8 (O) petrol-manual.
Note: Check your Car EMI with our - Car EMI Calculator
Mahindra XUV300 Petrol W4 - Base Model Features & Review
The base W4 variant of the Mahindra XUV300 petrol costs Rs. 8.16 lakh (ex-showroom). It has the following notable standard features:
Power mirrors
All power windows
16-inch wheels
Rear disc brakes
Central locking
Steering-feel adjustment
LED tail lamps
Tyre position indicator
Idle start/stop
Body-coloured bumpers, mirrors and door handles,
Considering the price of the base variant, it's missing a bunch of must-have features, which are essential for a decent ownership experience. We believe it should have had the following features:
Remote central locking
Music system
Steering-mounted controls
Wheel covers
Mahindra XUV300 Petrol W4 vs W6 Variant - Price & Feature Comparison
The W6 variant of the XUV300 costs Rs. 10.0 lakh with the manual transmission and Rs. 10.20 lakh (ex-showroom) with the automatic. The W6 petrol-manual is Rs. 1.83 lakh more expensive than the base model. For this additional sum, you get the following notable features:
Music system
Steering-mounted controls
Remote central locking
Full wheel covers
Sunroof
This variant is still missing some key features like:
Projector headlamps
Front and rear headlamps
LED DRLs
Cruise control
Split rear seatbacks
Rear washer wiper
Rear defogger
Touchscreen infotainment
While the sunroof is a big ticket item and it greatly improves the ownership experience, the price jump from the W4 variant is too steep. The W6 doesn't seem like a good value-for-money option. If you're not keen on getting an SUV with a sunroof, then we'll strongly suggest getting the base W4 variant and adding some aftermarket accessories like a music system, wheel covers and remote central locking.
For petrol-automatic buyers, this is the most affordable variant of the XUV300 with the automatic transmission. However, it only costs Rs. 20,000 more than the W6 petrol-manual, which greatly improves its VFM quotient. Besides, you also get some additional features, which are exclusively available with the automatic transmission. So, the W6 automatic seems like a good choice for budget-conscious buyers considering the XUV300 with a petrol-automatic powertrain.
It's worth noting that the W6 petrol-automatic's ex-showroom price is more than Rs. 10.0 lakh, which will considerably increase the on-road price as well because of significantly higher registration taxes. So, the on-road price difference between the W6 manual and W6 automatic could easily go up to Rs. 50,000 - 60,000.
Mahindra XUV300 Petrol W6 vs W8 Variant - Price & Feature Comparison
The W8 variant of the XUV300 petrol is only available with a manual transmission and costs Rs. 84,664 more than the W6 manual with an ex-showroom price of Rs. 10.85 lakh.
This variant gets the following notable features:
7-inch Touchscreen with Android Auto and Apple Carplay
Rear defogger
Rear camera
Rear washer wiper
Halogen projector headlamps
16-inch alloy wheels
Split rear seatbacks
Cruise control
Front armrest
LED DRLs
Door cladding
Spoiler
Premium upholstery
Power folding mirrors
Auto wipers
2-zone auto AC
Auto headlamps
Keyless entry with push-button start/stop
Door cladding
However, it's worth noting that this variant doesn't get a sunroof, which is available in the lower W6 variant. Other than this feature, it also doesn't get a rear armrest.
From a value as well as a functional standpoint, the W8 makes more sense than the W6 variant. The long list of features in this variant will drastically improve the ownership experience even if it doesn't get a sunroof. For a feature-rich experience, XUV300 petrol-manual buyers should consider the W8 variant instead of the lower W6 variant.
Mahindra XUV300 Petrol W8 vs W8 (O) Variant - Price & Feature Comparison
The W8 (O) top model of the Mahindra XUV300 petrol gets petrol-manual as well as petrol-automatic powertrain options. With the petrol-manual, it costs Rs. 12.03 lakh, which is Rs. 1.19 lakh higher than the lower W8 variant. For automatic buyers, the price jump from the lower W6 automatic is a bit higher at about Rs. 2.50 lakh as the W8 (O) AMT carries an ex-showroom price of Rs. 12.69 lakh. The W8 (O) adds the following important features to the car:
Auto-dimming inside mirror
Front parking sensors
Telematics
Side and curtain airbags
Tyre pressure monitor
Sunroof (not available in W8 but available in W6)
Machined alloy wheels
Leather upholstery
Besides a couple of features like extra airbags, tyre pressure sensors, hill start and ESC, the rest of the features of the W8 variant all fall in the good-to-have category. From a value perspective, though, it manages to justify the jump over the W8. So, if you're interested in some of these feel-good features, then you can consider upgrading to this variant. Otherwise, for most buyers, the W8 is a suitable choice and it earns our top recommendation.
Which Variant Of The Mahindra XUV300 Petrol Should You Buy?
For the Mahindra XUV300 petrol-manual buyers, the base W4 variant is a decent pick even though it doesn't get some must-have features. The upgrade to W6 variant is not only expensive but it also offers poor value for money. You should buy the W6 only if you want the XUV300 with a sunroof and don't want to stretch your budget.
For most XUV300 buyers, we'll suggest skipping the W6 variant and instead, jumping straight to the W8 variant, which offers a more balanced ownership experience with more functional features. While the W8 doesn't get a sunroof, it does offer far better value for money than the W6 and it earns our top recommendation. From there, the jump to W8 (O) is worth considering from a value for money perspective. However, it mostly adds good-to-have features. So, you should consider it only if you find its unique features important.
Since the XUV300 petrol-automatic is only available in 2 variants, the choice becomes easier. You only need to look at your budget and what features you want in the car. Budget-conscious buyers can buy the W6 variant but if you have a bigger budget, then you can consider the W8 (O), which offers better value for money.
What Are The Engine Specifications Of The Mahindra XUV300 Petrol ?
Compared to other turbo petrol B2-segment SUVs, the XUV300's power is on par with its rivals, but its torque output of 200Nm is considerably higher for a small SUV. Unfortunately, its weight gives it a lower torque-to-weight ratio than the Magnite and Kiger turbo. In terms of fuel efficiency, the XUV300 petrol's figures are towards the bottom for a sub-4m petrol SUV.
Unlike some of the B2-segment SUVs like the Renault Kiger, Nissan Magnite, Hyundai Venue and Kia Sonet, the XUV300 doesn't offer a more affordable normal petrol engine, which is one of the reasons why it has a high starting price. On the bright side, the option of an automatic transmission gives some choice to the customers.
*Estimated
Compared to the normal petrol engines, the XUV300 turbo petrol has a better power and torque output. So, you can expect better drivability from the XUV than non-turbo petrol engine SUVs.
You can use our Fuel Cost Calculator to see how any petrol, diesel or CNG car will cost to run based on the latest fuel price in your city.
What Are The Dimensions Of The Mahindra XUV300?
In terms of dimensions, the XUV300 is the widest car in its class with the longest wheelbase. These specifications suggest that the XUV300 has a roomier cabin than its rivals. However, pushing the axles too far apart does eat into its boot, which is the smallest among B2-segment SUVs. The Kiger shines in this area with a 405L trunk. The other disappointing number on the XUV300's spec sheet is its ground clearance, which stands at 180mm and is barely adequate to put it across the 'SUV' line. Most of its rivals offer 200mm of higher clearance while the Nexon remains at the top sitting 209mm off the ground.
Find out how you can get the best mileage or fuel efficiency from your car:
10 Tips To Get Better Mileage From Your Petrol, Diesel Or CNG Car
What Are The Colour Options Of The Mahindra XUV300 Petrol?
The 2022 XUV300 petrol is available in the following 6 monotone and 2 dual-tone exterior colours:
Red
Black
Silver
White
Dark Green
Grey (Except base variant)
Red with white roof (Top variant only)
Dark green white roof (Top variant only)
Note: Here is a quick look at our length-based segmentation of cars to give you an idea of how we classify cars based on their size.