Tata Altroz vs Maruti Suzuki Baleno Fuel Efficiency Mileage Comparison
We finally know how far the Tata Altroz hatchback will go with each fuel option. The Altroz with the petrol engine and 5-speed manual transmission has an ARAI-rated fuel efficiency figure of 19.05kmpl. Meanwhile the Altroz diesel has earned a fuel efficiency rating of 25.11kmpl.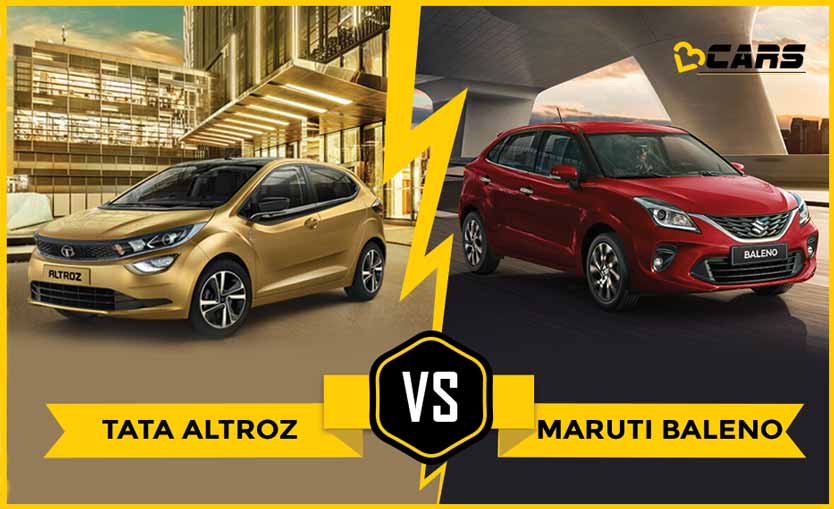 Car

Petrol

Diesel

Tata Altroz

19.05kmpl (MT)

-

25.11kmpl

Maruti Suzuki Baleno

21.01kmpl (MT)

19.56kmpl (CVT)

27.4kmpl
Fuel Efficiency / Mileage of Maruti Suzuki Baleno is better that Tata Altroz on both petrol and diesel engine. Baleno's Petrol MT engine gives 21.01kmpl and CVT mileage is 19.56kmpl in comparison of Tata Altroz 19.05kmpl MT.
Baleno's Diesel engine fuel efficiency is 27.4kmpl which is 2.29kmpl more than Tata Altroz.
Here's a comparison of Tata Altroz vs Maruti Baleno Engine Specification comparison with fuel efficiency/economy:
Engine Specs Comparison Tata Altroz vs Maruti Baleno

 

Tata  Altroz

Maruti Suzuki Baleno

Tata  Altroz

Maruti Suzuki Baleno

 

Petrol

Diesel

Displacement

1.2-litre

1.2-litre

1.5-litre

1.25-litre

Maximum Power

86PS @ 6000rpm

83PS @ 6000rpm

90PS @ 4000rpm

75PS @ 4000rpm

Maximum Torque

113Nm @ 3300rpm

113Nm @ 4200rpm 

200Nm @ 1250 - 3000rpm

190Nm @ 2000rpm 

Transmission

5-speed MT

5-Speed MT & CVT

5-speed MT

5-Speed MT

Claimed FE

19.05kmpl (MT)

21.01kmpl (MT)

25.11kmpl

27.4kmpl

19.56kmpl (CVT)

-

-

Emission Standard 

BS6

BS6

BS6

BS4