Home
-
Car Comparison
-
Hyundai Aura vs Tata Altroz – Specs, Dimensions & Features Comparison
2020 Hyundai Aura Vs Tata Altroz - Specs, Dimension, Feature Comparison
Let's compare the engine specs, dimensions, features and estimated prices to see which car you should buy.
---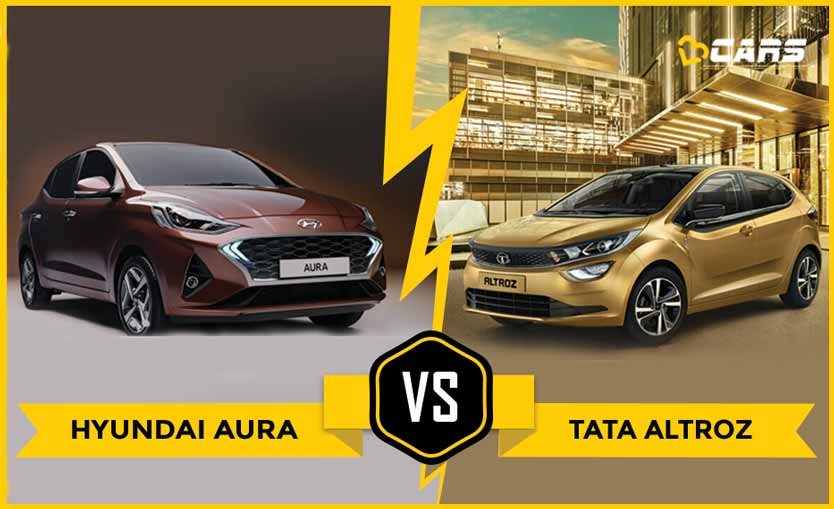 Hyundai Aura vs Tata Altroz - Dimensions Comparison
The Hyundai Aura and the Tata Altroz are about equally long and tall. The Altroz has an upper hand with a wider body, which makes it easier to accommodate 3 passengers in the rear seat. The Altroz also has a longer wheelbase, which helps in liberating legroom for rear passengers. But, stretching the wheelbase comes at the cost of boot space as the wheel wells begin intruding into the boot area. The Aura makes it could with better boot space.
So, the Altroz seems to be winning this objectively. If you intend to frequently use the rear seat of the car and can don't use the boot as much and as often, then the Altroz is the better car for you. However, if you frequently pick up or drop off friends and family from or to the airport, railway station or bus stands, then the Aura will serve you better.
Dimension Comparison Aura vs Altroz

 

Hyundai Aura

Difference

Tata Altroz

Length

3995mm

5mm

3990mm 

Width

1680mm

75mm

1755mm

Height

1520mm

3mm

1523mm

Wheelbase

2450mm

51mm

2501mm

Boot Space

402 litres

57 litres

345 litres
The Hyundai Aura is 5mm longer and Tata Altroz is 75mm wider and 3mm higher than Hyundai Aura. A wider body normally results in better shoulder room inside the car while a higher roof makes it easier to get in and out of the car. The Tata Altroz's ground clearance is 5mm less than that of the Hyundai Aura. A higher ground clearance makes it easier to go over tall speed breakers or drive on broken roads.
The Altroz's wheelbase is 51mm longer than the Aura's and boot space of Hyundai Aura is 47 litres more than Tata Altroz. The wheelbase is the distance between the centre of the front and rear wheels. A longer wheelbase means better legroom for tall occupants. A larger boot allows you to carry more luggage for pick up or drop trips to airport/railway stations.

Winner: 2020 Tata Altroz
Hyundai Aura vs Tata Altroz - Petrol Engine Spec Comparison
The Hyundai Aura has 2 petrol engine options - a 1.2-litre normal and a 1.0-litre turbo. The turbo wipes the floor clean with an amazing 172Nm torque that comes in early at 1500rpm and stays strong till 4000rpm. With this engine, you'll never feel short on power and you can overtake pretty much anyone on the road with just a downshift and a heavy right foot.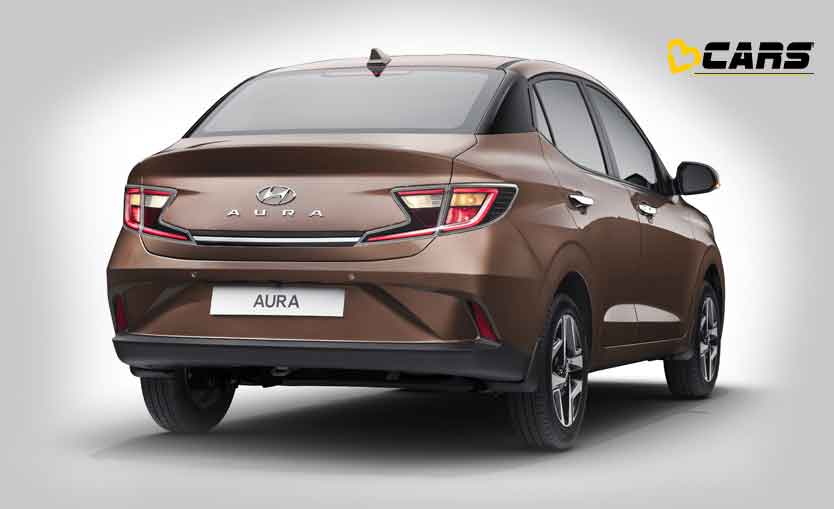 On the flip side, the 1.2-litre normal petrol engine seems mediocre but it has refinement on its side. After all, it's the only 4-cylinder petrol engine you can buy if you are considering these two cars. This is a refined, proven and time-tested workhorse of an engine that's likely to serve you well for years to come. This is the oldest engine in this battle and that means this is most likely to outlive its rivals on reliability chart.
The Altroz' 1.2-litre petrol engine is a great middle-ground between the Aura's 2 petrol engines. It's not as new as the Aura's 1.0-litre turbo engine but not as old as the 1.2-litre 4-cylinder one either. This one has been around since 2016. It doesn't deliver its peak torque as early as 1500rpm like the turbo but also doesn't wait till 4000rpm. No turbo and intercooler also mean fewer things that can fail during the ownership. The only place where it falls short is with an automatic transmission - as in, it doesn't have one at all. The Hyundai Aura offers a 5-speed AMT automatic with the 1.2-litre normal petrol engine. So, if you want an automatic, the Aura with the 1.2-litre petrol engine is your only option.
Aura vs Altroz Petrol Engine Specs Comparison

 

Hyundai Aura

Tata Altroz

Displacement

1.2-litre

1.0-litre Turbo

1.2-litre

Power

83PS @ 6000rpm

100PS @ 5000rpm (est.)

86PS @ 6000rpm

Torque

115Nm @ 4000rpm

172Nm @ 1500 - 4000rpm (est.)

113Nm @ 3300rpm

Manual Transmission

5-speed

5-speed

5-speed

Automatic Transmission

5-speed AMT

-

-

Emission Standard

BS6

BS6

BS6
The winner here has to be the Hyundai Aura as it covers its bases quite well with 2 engine options with diverse personalities. It's also the only one here with an automatic transmission.
Winner: 2020 Hyundai Aura
Hyundai Aura vs Tata Altroz - Diesel Engine Spec Comparison
In the diesel engine comparison, the Hyundai Aura seems to be lagging quite a bit. It has a lower displacement and a lower power output. The peak torque is almost there with the Altroz, but it takes its sweet time coming into action at 1750rpm. The Altroz brings in 200Nm of torque at a lowly 1250rpm and it stays strong till 3000rpm. So, the Altroz' torque stays at its peak for 1750rpm while the Hyundai Aura's peak torque stays in action for just 500rpm.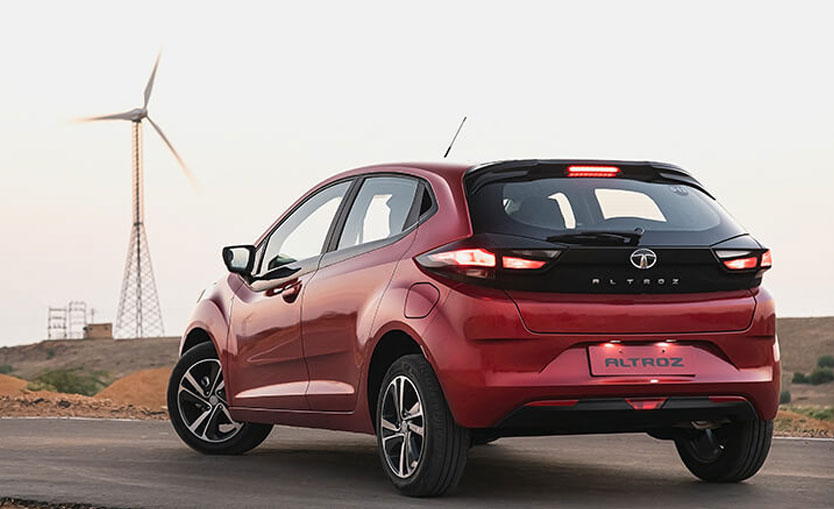 Without a doubt, the Altroz is the car that'll perform better in the city as well as on the highway. Both the cars come with a 5-speed transmission but only the Hyundai Aura is available with a 5-speed AMT automatic.
So, if you clock the majority of your kilometres in bumper-to-bumper traffic, then go with the Aura. But, if you want better highway performance and are willing to shift yourself, then the Altroz should serve you better.
Compare Aura vs Altroz Diesel Engine Specs Comparison

 

Hyundai Aura

Tata Altroz MT

Displacement

1.2-litre

1.5-litre

Power

75PS @ 4000rpm

90PS @ 4000rpm

Torque

190Nm @ 1750 - 2250rpm

200Nm @ 1250 - 3000rpm

Manual Transmission

5-speed

5-speed

Automatic Transmission

5-speed AMT

-

Emission Standard

BS6

BS6

Winner: 2020 Tata Altroz
Hyundai Aura vs Tata Altroz - Feature Comparison
While the exhaustive feature list of the Hyundai Aura isn't available yet, we can expect what the Aura might get based on the features of the Nios and Xcent. At the same time, the spy shots also reveal some interesting details, which we can consider for this comparison.
Compare Aura vs Altroz Common Features

Safety

Entertainment & Style

Functional

Dual Front Airbags

15-inch Alloy Wheels

Tilt Steering

Auto AC

ABS with EBD

Apple CarPlay & Android Auto

Electrically Foldable Outside Mirrors

Electrically Adjustable Outside Mirrors

Rear Parking Sensors & Camera

Audio Controls On Steering Wheel

Height-adjustable Driver Seat

Follow-me-home Headlamps

Rear Defogger

Touchscreen Infotainment System

Keyless Entry

Front & Rear Power Windows

ISOFIX

HalogenProjector headlamps

Push Button Start/Stop

Rear Armrest

Front Fog Lamps

LED DRL

Rear AC Vents

Cruise Control

The Hyundai Aura could get the following features which are missing in the Tata Altroz:
Wireless phone charging

Projector fog lamps

Auto-dimming inside mirror
On the other hand, Altroz has the following unique features:
7-inch full-colour LCD instrument console

Multi-driving modes

Auto start/stop

Umbrella holder in front doors

Ambient lighting

Automatic wipers
The feature list clearly shows that the Tata Altroz is from a higher segment than the Aura. That's even after giving the Hyundai Aura the benefit of doubt that it might get cruise control.
Winner: 2020 Tata Altroz
It's difficult to declare a clear winner here without taking the prices into consideration. So, we'll let you decide, which one makes more sense for you based on this comparison and the prices, which will be revealed soon.
Previous
Next

---
---
Related Car Comparison